Sub Menu Toggle
Alondra Saenz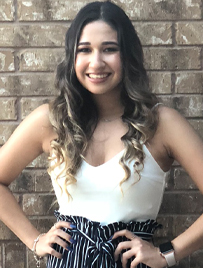 Name Alondra Saenz
Age: 20
Major: Exercise Science
College: College of Sciences
Hometown: San Juan, TX
High School: Vanguard Academy, Pharr, TX 
Why UTRGV?
UTRGV is a great university that gives you a great experience and a wonderful environment. This university is like no other.

What made you decide on your current major?
I love learning new things about the body and how it works. I'm always active and I love working out, but my passion is working with children and making a difference. 
What do you hope to achieve beyond completion of your major?
In my near future I hope to achieve great things, like graduating with my bachelor's degree then working on my master's degree so that later I can earn my doctorate degree. In this world I see myself providing a great occupational therapy clinic where I can work with my patients, and together, make a difference.
What do you like most about UTRGV?
The campus, the professors, the culture, and the wonderful learning opportunities.

How are you maneuvering being a student during the COVID-19 pandemic?
Being a student throughout this whole COVID-19 has definitely been a challenge, but it's nothing that we can't handle. Most of us have taken online classes so it's not something we aren't familiar with. As far as my academic goals, I really have to be on top of my assignments to make sure I turn everything in on time. I have a huge calendar where I write everything down like exam dates, quizzes, or assignments. Besides all of this maneuvering as a student, still having a job, and dealing with the pressure of the COVID-19 is a bit difficult but I'm doing very well.
What are your greatest strengths and what are some challenges? 
My greatest strength through this pandemic is my patience. I am a very patient and understanding person which helps me a lot. I am also a very social person, so I'm always communicating with my professors which makes this whole situation a lot easier. Some challenges I have faced would probably be juggling two jobs, having school and facing this pandemic. Other things I've faced are having a noisy house during classes or exams, the Wi-Fi being slow when you need it the most and so on, but most of these challenges I have been able to overcome and work with.
What does being a Vaquero mean to you?
Being a vaquero means you are part of the family and nothing can stop you from achieving great things.  

What opportunities has UTRGV helped you find throughout your community?
With UTRGV and the club organizations I'm Involved in, we do a lot of volunteering - we work in groups, meet new people, and make new friends and connections. UTRGV helps you become who you truly admire. They help you realize new passions and help you set new goals in life you never thought you would.

What advice do you have for fellow students pursuing degrees during the COVID-19 pandemic?
The best advice I can give to my fellow students is to take everything one step at a time, to be patient, but most importantly, to never lose hope. Together as a whole we will get through this and I can't wait to see how strong we all come out of this.