Sub Menu Toggle
Alondra Garcia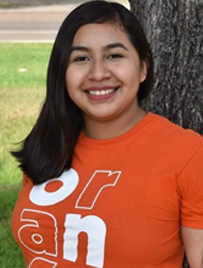 Name: Alondra Garcia
Age: 19
Major: Interdisciplinary Studies with concentration in Bilingual Education
College: College of Education & P-16 Integration
Hometown: Edcouch, TX
High School: Edcouch-Elsa High School 
Why UTRGV?
UTRGV in Edinburg was the campus of my choice given that I grew fond of it at an early age, back when it was still UTPA. I explored it and the programs available and took advantage of all the resources and even participated in summer programs it held. Getting involved was the best decision by far. I currently live on campus through a migrant housing scholarship, Abriendo Caminos, which has been a true blessing. It's allowed me to make friends, acquaintances and given me access to an alternative university experience.
What made you decide on your current major?
When I applied to UTRGV, I decided that I wanted to become an elementary teacher. I have always had the passion to teach and decided it was time to act. Many of my previous teachers have inspired me to follow in their footsteps and I would like to return the favor by teaching students how an education will aid them in changing our future.
How are you maneuvering being a student during the COVID-19 pandemic?
I will admit I am struggling to balance work, school and life at home. Luckily, I have internet access for the time being to do my exams and work from home. I truly miss campus, learning, and my peers. Regardless, I am grateful for the UTRGV staff and faculty in creating continuous opportunities that allow everyone to continue pursuing their degree.
What do you like most about UTRGV?
UTRGV is just amazing. The professors are very caring and helpful toward their students and are very dedicated to their work. The university offers great events involving the community which shows UTRGV giving another meaning to the word "family."

What does being a Vaquero mean to you?
I love being a Vaquero and my fellow Vaquero students/alumni, staff, and even our mascot. Being a Vaquero to me is being a part of something grand, something that no one else will understand until you are a Vaquero. I take pride in everything that I do and being a Vaquero is one of them.

What opportunities has UTRGV helped you find throughout your community?
Thanks to UTRGV I am now more than ever involved with my community, helping my local church as CCE teacher, promoting the word of education and offering constant opportunities for my community to engage in positive changes. My mission is educational outreach in helping students throughout the RGV succeed in transitioning toward a postsecondary education.

What's in your playlist right now?
My playlist consists of different artists from various genres and eras: Paganini and classical music, to Aretha Franklin and other soulful artists, to the 80's with Queen and Whitney Houston, my favorite violin musician Lindsey Stirling, Mariachi music, some 2000's throwbacks, and finally, todays artists Halsey, Dua Lipa, etc.
What advice or encouraging words do you have for fellow students pursuing degrees during the COVID-19 pandemic?
During this COVID-19 pandemic, we must continue to support each other by staying safe while continuing our education. We must set an example for the future Vaqueros. We must remain strong and united. As for Spring 2020 graduates, you will leave behind an unforgettable legacy that will be spoken of in the years to come, your hard work will not go unnoticed, you will be remembered!