Sub Menu Toggle
Adriana Nava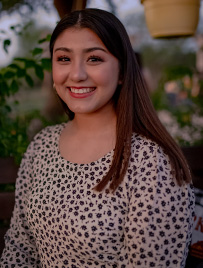 Name: Adriana Nava
Age: 20
Major: Bilingual Education
College: College of Education and P-16 Integration
Hometown: Edinburg, Texas
High School: Robert Vela High School, Edinburg, TX 
Why UTRGV?
As a family-oriented person, attending UTRGV was ideal for me because it gave me the opportunity to continue my education while being close to home. The university offers quality education and exhibits a welcoming and caring environment for its students by providing many useful resources and special programs that assist students in achieving their future goals. 
What made you decide on your current major?
Throughout my elementary years, I was inspired by my former teachers to become an educator.  I was influenced most by my mother who is currently a third-grade teacher.  She has taught me the importance of being a caring, patient, and effective educator. I love working with children, and I knew at an early age that I wanted to make a positive impact in students' lives.
How are you maneuvering being a student during the COVID-19 pandemic?
COVID-19 took everyone by surprise and has made life difficult over these past couple of months.  As a student who was used to traditional, in-person classes, transitioning to online learning was a challenge. However, the staff and professors at UTRGV have helped make the transition smoother. In addition, UTRGV has provided financial and emotional support during these unprecedented times.
What are your greatest strengths and what are some challenges? 
I believe my greatest strength is determination. I feel I can accomplish anything I set my mind to. I have overcome some hurdles throughout my life because I do not give up easily. In reference to my education, I try to complete assignments early instead of putting them off until the last minute. Once I begin an assignment, I am determined to get it done that same day. A challenge I've had to deal with during this pandemic is balancing school, work, and home life.  Taking online courses from home has brought about its own challenges. The distractions at home sometimes make it more difficult to concentrate on my studies.
What do you hope to achieve beyond completion of your major?
After I receive my bachelor's degree in Bilingual Education, I plan to teach in the Rio Grande Valley. I would like to give back to my community by providing students from multicultural, diverse backgrounds a positive learning experience. I see myself providing a safe and comfortable learning environment where all students can have equal opportunities to become successful learners and productive members of society. Upon completion of my major, I hope to pursue a master's degree in educational leadership. 
What do you like most about UTRGV?
What I love most about UTRGV is the safe environment, helpful staff, and friendly community.  The Edinburg campus provides a welcoming and safe environment for all students. UTRGV promotes student and faculty involvement which creates a supportive environment for all. The university's staff members are readily available in assisting students with questions about financial aid, student support services, and online courses. With the situation we are currently in, UTRGV has extended its resources and services to help students in need. The school community has come together during this pandemic to provide a safe environment and ensure student success. 
What does being a Vaquero mean to you?
Being a Vaquero means having confidence in myself to achieve my academic goals and the satisfaction of becoming part of a great institution's legacy.  It is also the proud feeling of representing my Hispanic culture by upholding the customs and traditions that are dear to me.  I am very proud to be a part of the Vaquero community, one who stands together during challenging times, even though we are physically apart. 

What opportunities has UTRGV helped you find throughout your community?
As a Student Union employee, I have discovered qualities in myself and have acquired skills that will be beneficial to my future educational career.  My supervisors have entrusted me with my current position as manager to collaborate and work effectively with other employees.  I have developed a strong work ethic, improved my communication skills, and have learned to be an effective leader in the process. 
What advice do you have for fellow students pursuing degrees during the COVID-19 pandemic?
For those pursing a degree during these trying times, first of all, I commend you for continuing your education and staying strong throughout this current situation. Keep striving towards your goal and reach out to your UTRGV community for support if you feel discouraged at times. I strongly suggest you surround yourself with friends and family members who will influence your education in a positive way. Make sure to balance your schoolwork and personal life to reduce stressful situations and try to make the best out of this difficulty time.