Sub Menu Toggle
Zoe Sesin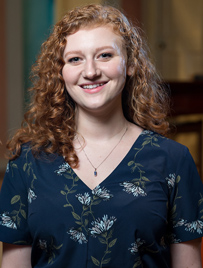 Name: Zoe Sesin
Age: 22
Major: Theatre
Hometown: Mission 
Why UTRGV?
Initially I chose to attend UTRGV due to the convenience of being close to home. Originally, I was going to transfer to another school, but ended up staying at UTRGV. I realized that the relationships I had made with others, as well as my involvement in the theatre department, was irreplaceable.

What made you decide on your current major?
I chose theatre because it was something that truly touched my heart and a place where I truly felt I belonged. Before theatre I had two other majors, mass communications and English, but I never felt as interested or as passionate about them as I did for theatre. Being on stage is the one place where I truly feel at home and I truly feel as though I can be myself.
What do you like most about UTRGV?
I think one thing I really love about UTRGV are my professors and the classes that I got to take. My acting classes were probably my favorites. Also, I loved all of the shows that I was involved in and the people that I got to work with.

What are some of your favorite study spots on campus?
Some of my favorite study spots on campus include the fourth floor of the library as well as the lobby to the ELABS building.

What does being a Vaquero mean to you?
Being a Vaquero, to me, means being hardworking and dedicated to your craft. A Vaquero is someone who doesn't give up when things go wrong or settle for giving anything less than their best.

What opportunities has UTRGV helped you find throughout your community?
Being at UTRGV, I've been able to meet other people within the theatre community. Most people within the community go to watch shows at the university, so I've been lucky enough to meet some of them and discuss potential work opportunities with them.

What are a few of your favorite books?
"To Kill a Mockingbird" by Harper Lee is one of my favorite books of all time since it shows how people can misjudge someone's character even though they don't know them. I feel that it also shows how innocent children are and what it's like to learn about the harsh realities of the world
"Eleanor & Park" by Rainbow Rowell. This book reflects on young love and what it's like to experience that. Although it's pretty sappy, it still deals with some serious issues such as familial abuse and the self-image issues we face as teens.
"Palo Alto" by James Franco reflects a lot on the consequences of teen actions. It also shows how teens hide a lot of things from their parents and how it shapes them to be the way that they are.

What's in your playlist right now?
I have a mix of stuff on my playlist. I listen to Monsta X, Migos, NCT and a lot of musicals.