Sub Menu Toggle
Yulissa Rangel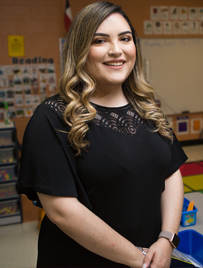 Name: Yulissa Rangel
Age: 21
Major: Interdisciplinary Studies
College/Department: College of Education and P-16 Integration
Hometown: Alamo 
Why UTRGV?
I chose to attend UTRGV because I knew that I would be receiving a quality education close to home. UTRGV also offered me numerous scholarships that paid off the majority of my tuition. Attending UTRGV was an opportunity that I couldn't pass up.

What made you decide on your current major?
When I was younger, my teachers would have me tutor some of my peers. I quickly fell in love with teaching others. My classmates would say, "You would be such a great teacher," but I never really saw myself going to school to pursue a degree in education. As soon as I entered the university, I realized that being an educator was exactly what I wanted to do with my life. Regardless of the grade I end up teaching, I hope to positively impact the lives of my future students.
What do you like most about UTRGV?
What I like most about UTRGV would have to be the amazing people that I have met thanks to the department I work for, P-16 Outreach. I've gained so many leadership skills under the supervision of my director and our program coordinators.
What are some of your favorite study spots on campus?
I personally enjoy studying in the third floor of the education building.

What does being a Vaquero mean to you?
Being a Vaquero means embracing our unique Mexican-American culture. Since we live so close to the border, I think it's very important for us to be proud of our heritage and background. I love how UTRGV does just that.
What opportunities has UTRGV helped you find throughout your community?
Working for the P-16 Outreach department has been the greatest opportunity that UTRGV has granted me with. Through this department, I was given the opportunity to serve my community as a Collegiate G-Force Mentor and Summer Camp Counselor. Being able to assist high school students have a smooth transition into college is very rewarding. I've also worked several tabling events to promote UTRGV. Being able to speak to students and promote a college-going culture has been the best experience.

What are a few of your favorite books?
I recently enjoyed reading "Educated" by Tara Westover. As a future teacher, I also love so many children's books. "Matilda" by Roald Dahl is one of my personal favorites.

What's in your playlist right now?
Taylor Swift is always in my playlist. She's my absolute favorite. I can't wait for her new album to come out this year!