Sub Menu Toggle
Yannick Rajesh Kambrath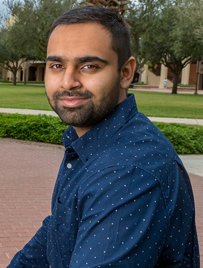 Name: Yannick Rajesh Kambrath
Age: 21
Major: Computer Engineering
Hometown: Plaisir, France 
Why UTRGV?
I was in my first year of college in Versailles, France when I heard about the opportunity to come to UTRGV. The university had a strong chess team that I wanted to join so I could keep playing chess while studying. I also thought it would be a good chance for me to improve my English, discover a new culture and a new country.

What made you decide on your current major?
I have always been interested by the way things work, especially computers. Our society is becoming more and more dependent on technology, so I think computer engineers will play an important role in the future for technological advances, which I wish to be part of. Another factor is that my father is managing a company that works firsthand with advanced technology, so that influenced my decision as well. 
What do you like most about UTRGV?
The campus is very beautiful and like nothing I have ever seen. It is much larger than campuses in France. I like the style of the campus where buildings are built around nature. Having the Resaca in the middle of the campus makes UTRGV unique and aesthetically pleasing.
What are some of your favorite study spots on campus?
I study at the library, especially when I work with a group, but mostly at the dorms. I am more focused and more productive when I am isolated and in a quiet environment. I also recently discovered the futuristic looking Music, Science & Learning Center building where I find it enjoyable to study.
What does being a Vaquero mean to you?
Being a Vaquero and representing the color of my university is something I am proud of. It makes me belong to a community where you meet very knowledgeable people with all different sorts of cultures. Everyone is helping each other become better and achieve their own goals which I believe is the Vaquero spirit!

What opportunities has UTRGV helped you find throughout your community?
I started working last year as a chess tutor for UTRGV, thanks to my supervisor and chess coach, Bartek Macieja, who hired me. Being a tutor helped me gain more confidence, working