Sub Menu Toggle
Vladimir Belous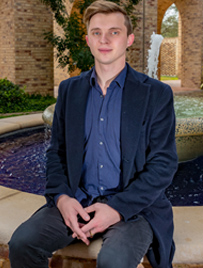 Name: Vladimir Belous
Age: 25
Major: Accounting
Hometown: Moscow 
Why UTRGV?
I was invited by the coach of the chess team. Since my chess knowledge greatly exceeded my knowledge of English, I was offered to improve my English and then join UTRGV.

What made you decide on your current major?
This is the merit of my professors who taught me this class. They showed me how cool it is. 
What do you like most about UTRGV?
I really like the dorms. On campus, everything is close enough. Professors are very helpful. I think this is the perfect combination and atmosphere for education.

What are some of your favorite study spots on campus?
My favorite place is my apartment. I can study, relax and cook the food I want.

What does being a Vaquero mean to you?
I like to defend the honor of our University in competitions. I often hear good words from students whom I do not even know. I am pleased to be part of this big and friendly Vaquero team.

What opportunities has UTRGV helped you find throughout your community?
UTRGV gave me the opportunity to learn about a new culture for me. The school has taught me that studying is very fun exciting.
What are a few of your favorite books?
I think I am one of the few who read the "Game of Thrones" books but did not watch the series. I also like the book with which I was preparing for the TOEFL. It helped me pass this exam.
What's in your playlist right now?
I listen to almost everything, but lately I prefer music in Spanish. It's all that plays on the radio.