Sub Menu Toggle
Valerie Lozano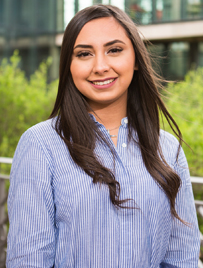 Name: Valerie Lozano
Age: 23
Major: Interdisciplinary Studies
College/Department: College of Education and P-16 Integration
Hometown: Edinburg 
Why UTRGV?
I decided to enroll at UTPA, the legacy institution, due to its proximity to home. As a first-generation college student and because of the special bond I have with my family, being close to home was very important to me. I was also aware of the new opportunities that were upcoming once the university transitioned to UTRGV the following year, so I was excited and looked forward to being part of this new chapter.
What made you decide on your current major?
Although nursing was at the top of my list, I ultimately decided to pursue a degree in education. My aunt, who is an elementary school teacher at La Joya ISD, greatly influenced my career path. She has often expressed how fulfilling and rewarding her career has been. My sister-in-law is also a teacher and she too has inspired me to become a teacher. I am thoroughly convinced that I made the right choice! 
What do you like most about UTRGV?
What I like about UTRGV is everything, as far as the campus, classes, and professors. UTRGV has an excellent team of faculty and staff who truly care for the students and work tirelessly to help them achieve their goals. I will be forever grateful to my professors and some staff members who have played a key role in helping me succeed each and every semester.

What are some of your favorite study spots on campus?
There are several places throughout campus that I enjoy, but I have to say that my favorite is the computer lab on the second floor of the Education building. The environment is peaceful and quiet which has allowed me to focus and concentrate on my studies.
What does being a Vaquero mean to you?
As I get ready to graduate this May, I can't help but feel so much pride to be a UTRGV Vaquero. Although UTRGV is a fairly new university, it is already being recognized statewide and on a national level among the top universities in the United States.
What opportunities has UTRGV helped you find throughout your community?
Since fall 2018, I have been a teacher candidate in the STEP-UP Program in the College of Education and P-16 Integration, which has allowed me to be immersed in a classroom setting at a McAllen ISD elementary school and fully experience the teaching environment from the start of a traditional school year. As the end of the year approaches, it has made me realize that I have a true passion for teaching. Although I am just starting out, I feel like I've already made a difference in the lives of my students this past year.
What are a few of your favorite books?
My ultimate favorite book is the Holy Bible because it is my constant source for guidance and inspiration when I am troubled, but also during times of joy and happiness. Another one of my favorite books is "The Fault in Our Stars" by John Green. I love that it focuses on the fact that you don't have to leave behind a huge legacy when you die. You matter to a few people who you knew in your lifetime and that's enough.

What's in your playlist right now?
Currently on my playlist is Lauren Daigle, a Christian music singer. As a full-time student, while working part-time and managing to have a social life in my limited spare time, it can be quite challenging and overwhelming trying to juggle all my commitments. However, her songs of faith and hope help me cope with the stress and bring me much needed inner peace.