Sub Menu Toggle
Ulyses Yakovlevich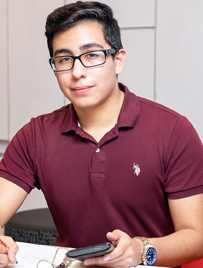 Name: Ulyses Yakovlevich
Age: 19
Major: Physics
Hometown: Edinburg, TX 
Why UTRGV?
After being accepted into and touring every public college in Texas, I decided to check out UTRGV, which was the closest university to me. Looking at the high-class academic curriculum, prestigious research, graduate programs offered, community engagement and scholarships that were offered, it became clear that UTRGV was the right choice. 
What made you decide on your current major?
I've gone between majors a few times before, initially starting as a philosophy major and then adding a double major in biology. By the end of my first full-time semester at UTRGV, I realized how important astronomy and physics are to me. I'm an amateur astrophotographer and currently run an Instagram page where I upload photos I take and process through my telescope. It was an astronomy professor I had that made me realize that my true passion is astronomy/physics. I am still interested in medicine, however, and am actively completing the prerequisites for medical school. 
What do you like the most about UTRGV?
The location is perfect for basically everything as UTRGV is essentially in the heart of Edinburg. It's very easy for me to balance everything in my life due to how conveniently located everything around UTRGV is. The professors are outstanding at UTRGV and their credentials and passion for teaching are always on full display. 
What are some of your favorite study spots on campus?
My favorite spot would have to be the couches by the windows in the new science building due to how quiet the area is. A close second would be the computers on the third floor of the library, again due to how quiet they are. 
What does being a vaquero mean to you?
Being a Vaquero means that I have a chance to help change the established poor perception of the Valley. I'm not originally from the Valley, so I can't pretend to act as if I have some deep connection to the area, but I did complete a good portion of high school and all of college so far down here. It's saddening to me how many great opportunities people in the Valley completely miss out on and UTRGV is easily the single greatest blessing to this entire area. Being an advocate for this university is important to me so that hopefully one day the Valley will embrace the diverse academic culture propagated by UTRGV and its esteemed faculty. 
What opportunities has UTRGV helped you find throughout your community?
I've gotten numerous opportunities around the community, most notably the completion of two research projects with resident physicians from the UTRGV School of Medicine. It wasn't intimidating being the second and third author on two respective studies and presenting in the resident category alongside actual physicians due to the friendly environment that UTRGV facilitates. This environment flows all the way through its professional and graduate programs. 
What are a few of your favorite books?
"The Odyssey" has always been a favorite of mine, but the reason has changed throughout the years. In middle school, yes, I liked the book because I finally found a novel where the main character and I shared names. Over time, I've come to realize just what a literary work of art this novel is and the sheer number of modern medias that have been inspired by it. On a less serious note, I also love comic books (DC much more than Marvel) and the Green Lantern: Sinestro Corps War comic line along with the Long Halloween Batman series are iconic and will always resonate with me. 
What's in your playlist right now?
I'm really into trap now and my favorite artists include: Lil skies, Travis Scott, Lil Wayne, Migos, Young Thug and Tyga. Aside from trap, I also like rock, Russian rap, Spanish music and a bit of country.