Sub Menu Toggle
Selina Garcia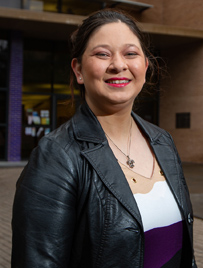 Name: Selina Kristal Garcia
Age: 24
Major: Biology
College: College of Sciences
Hometown: Mission, Texas
High School: Palmview High School 
Why UTRGV?
I started at South Texas College. After I graduated from Palmview High School, I wanted to finish my associate degree in Political Science. Three days after I walked across the stage to receive my high school diploma, I began classes and graduated in December of 2013. My mom, brother, and I then decided the next logical step was the legacy institution, University of Texas-Pan American. We never even considered another university. We lived in Mission together, still do, and money was tight, so we decided that was the most logical choice.    

What made you decide on your current major?
My path was leading me to the legal profession or even the military, but life throws curve balls. Cancer is something that has run in my family for generations and part of my reasoning for choosing the medical field instead. I have lost my maternal grandmother, maternal grandfather and a friend to cancer, as well as seen two of my aunts be diagnosed with breast cancer, so I want to enter the field of oncology to help save lives. My other motivation is my family. Our family has gone through a lot personally and financially, which has only brought us closer. My brother Gabriel also expressed wanting to pursue a career in medicine. After a chance meeting with an advisor at the medical college when I accompanied him to a doctor's appointment, I decided to try to get into medical school. 
What do you hope to achieve beyond completion of your major?
I hope to eventually get accepted into medical school and become a Medical Doctor practicing in the field of Oncology. Maybe one day I can open a practice and service the local community. Having accompanied family members to chemotherapy visits, I know that the experience can be hard. I hope to make my future patients as comfortable as possible. 
What do you like most about UTRGV?
The library has been like a second home to my family and me. I can remember us being there so long, that we had to be kicked out of the library at closing time when we were undergraduates. The library is an important place to us. The professors that I have had the pleasure of knowing in various departments have always been understanding, knowledgeable and approachable. The Special Collections & Archives, as well as the staff, have been awesome over the years. Whenever I needed a specific resource, they never hesitated to assist me. The Political Science Department and Learning Center deserve some recognition as well as they hired me on campus for the very first jobs I ever had. The Food Pantry was always there if we were short on money. We could use that money for gas instead and not have to worry about not having enough food. The Veterans department on campus helped my brother get through hard times and have a job, and I am forever grateful to them.  

What does being a Vaquero mean to you?
My maternal grandfather was illiterate, and my maternal grandmother along with her female siblings were forced to drop out of school to work. My family were generational field workers exposed to countless abuses in the workplace. Growing up, they always pushed all of us to earn an education to better ourselves and not have to endure what they had to. Being a Vaquero means laying the foundation for the generations after me and having the opportunity to make something of yourself regardless of life's woes. Following my younger brother's passing and the messy divorce of my parents, UTRGV became a place of refuge. My mom and I walked during our undergraduate ceremony, and I am thankful that my mother and older brother will also have that experience together getting their masters degrees.

What are a few of your favorite books?
"Madam Bovary" by Gustave Flaubert is a cautionary tale about living beyond ones means and the rigidity of Victorian gender norms. "The Scarlet Letter" by Nathaniel Hawthorne is about policing gender and sexuality through communal ostracism. The protagonists continued existence despite the harsh societal realities she faced daily are admirable.