Sub Menu Toggle
Pamela Cepeda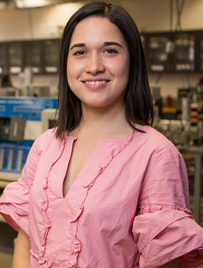 Name: Pamela Cepeda
Age: 20
Major: Manufacturing and Industrial Engineering
Hometown: McAllen 
Why UTRGV?
I knew opportunities for growth and development were available at UTRGV for those who looked for them, therefore, I decided to not take out loans to go elsewhere and stay close to home.

What made you decide on your current major?
Engineering always intrigued me and most considered it to be a challenge, so I decided to take the challenge and go for it.
What do you like most about UTRGV?
Professors are always willing to help, they give each student the time and attention and encourage students to get involved.

What are some of your favorite study spots on campus?
I am always in the third floor in the quiet room! It's my go-to place, I hardly get out of there.

What does being a Vaquero mean to you?
Being a Vaquero is being proud of our Hispanic background and being proud to be in this country.  

What opportunities has UTRGV helped you find throughout your community?
UTRGV has helped me network with classmates, faculty and beyond just within the university. For instance, through faculty, classmates and organizations like the Society of Manufacturing Engineers in UTRGV, I found out about conferences that helped obtain an internship with John Deere this past summer.

What are a few of your favorite books?
"The Four Agreements" by Miguel Ruiz is by far one of my favorite books because it creates consciousness and provides advice for a way of living to achieve personal freedom. Another book I'd consider one of my favorite books is the one I am reading right now which is called "How to Find your Soulmate Without Losing your Soul." The title may seem funny, but it is actually a really good book which gives great advice on relationship-based situations.

What's in your playlist right now?
At the moment I have been listening to a Spanish artist called Beret and a Mexican band called Los Claxons.