Sub Menu Toggle
Samantha Nicole Acuna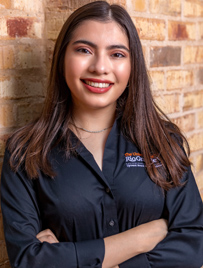 Name: Samantha Nicole Acuna
Age: 20
Major: Political Science
College/Department: College of Liberal Arts
Hometown:  Brownsville, TX 
Why UTRGV?
The opportunities UTRGV has offered me are unlike any other. Being some of UTRGV's first students is definitely pivotal in how we shape the history of South Texas and the faculty and staff at UTRGV helped me realize that early on. The academic and career endeavors I've experienced are because of UTRGV – the staff, faculty and my peers.
What made you decide on your current major?
Politics affects everyone in some shape or form, and I didn't realize this until I took my first political science class my sophomore year at UTRGV. Political science challenges me to learn more about the intersection of history, theory, behavior and everything else it encompasses. After that first class with Dr. Olney in the Political Science department, I knew I had to learn more about this field of study. 
What do you like most about UTRGV?
My favorite part about UTRGV is definitely the people. I've been able to meet great individuals through my participation in the Law School Preparation Institute last summer, through my classes the past four years and through student organizations.

What are some of your favorite study spots on campus?
On the Brownsville campus, a great study spot is definitely anywhere in the MSLC building. As for the Edinburg campus, I have to go with the STAC building.

What does being a Vaquero mean to you?
Being a Vaquero means having the opportunity to advocate for my school and my community. I've had the chance to meet with many great people throughout my last semester in school, such as the Secretary of Education Betsy DeVos and Senator Ted Cruz and have had the opportunity to share the stories I know best – the stories of my community.

What opportunities has UTRGV helped you find throughout your community?
By far, my favorite experience at UTRGV was working with the Upward Bound Math and Science (UBMS) program. UBMS is a TRIO program that gives students across the Valley the opportunity to become college-ready from early on. The TRIO programs at UTRGV do great work and I am so happy I've been a part of that.
What are a few of your favorite books?
One of my favorite books is definitely "Borderlands/La Frontera" by Gloria Anzaldua, which examines Anzaldua's own life living along the Texas-Mexico border. Another one of my favorite reads is "The Handmaid's Tale" by Margaret Atwood. I read that book years ago, but I tend to reread it frequently because it's a dystopian novel that happens to have some parallels to modern day society.

What's in your playlist right now?
Definitely a lot of Rosalía and the new Vampire Weekend album.