Sub Menu Toggle
Monika Garza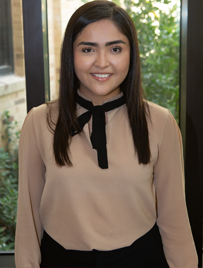 Name: Monika Garza
Age: 20 years old
Major: Political Science with a Minor in Criminal Justice
College/Department: Liberal Arts
Hometown: Brownsville, Texas 
Why UTRGV?
Coming from Mexico, I have always had the dream of studying in the United States. During my college search, I noticed that UTRGV was a growing institution which keeps on adding new programs and providing new opportunities for students in the Valley. UTRGV never stops surprising me. Overall, the opportunities provided, and the amazing faculty and staff make our college experience wonderful. Even though UTRGV is a fairly new institution, I am convinced that our university will keep on growing and attracting students from every corner of the globe.

What made you decide on your current major?
Crossing the bridge daily between the U.S. and Mexico made me realize the importance of foreign policy and how the U.S. interacts with other countries in different aspects such as economic and cultural exchanges. Studying political science provides me with the analytical skills needed to succeed in the field and helps me better understand the place that the U.S. plays on the international system and the importance of sustaining healthy relationships with other countries.
What do you like most about UTRGV?
What I like the most about UTRGV is the amazing faculty and staff. The opportunities and mentorship provided by the university also makes my college experience unique. I am thankful for the UTRGV faculty's commitment with all students and how they are always trying to make us not only better students, but better people. Also, I like that even though UTRGV is close to my home, I can still have the college experience that I have always wanted.

What are some of your favorite study spots on campus?
I am always looking for quiet spots to study on campus. My go-to places are the Brownville campus library and La Sala.

What does being a Vaquero mean to you?
Being a Vaquero means coming together as one and helping each other strive for success. But, most importantly, being a Vaquero means that we recognize the importance of representing the Rio Grande Valley by accepting and encouraging the exchange of views of all of us.

What opportunities has UTRGV helped you find throughout your community?
During my time as a student at UTRGV, I have worked for three departments and each one of them has helped me grow as a person and has allowed me to develop skills needed in the workplace and everyday life. Being involved on campus has helped me interact with people from different backgrounds and learn from their experiences. Most importantly, attending on-campus events has allowed me to network with people from different agencies, giving me opportunities in applying to different programs. It was through an event hosted by the Career Center that I found out about an internship with the U.S. Department of State in D.C. After attending the event, I decided to apply for the program and I got in! I am so thankful for this opportunity and I would never have done it without the help and support from UTRGV!
What are a few of your favorite books?
"The Alchemist" by Paulo Coelho is my favorite book of all time. I have read it at least five times. "Los Ojos de Mi Princesa" by Carlos Cuauhtémoc Sanchez is a must. Last but not least, "The Count of Monte Cristo" by Alexandre Dumas is classic that everyone should read at least once in their life.

What's in your playlist right now?
When it comes to music, I have a wide variety of taste. However, Luis Miguel, Alejandro Fernandez and Michael Bublé are always on my playlist.