Sub Menu Toggle
Monica Vera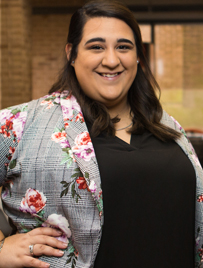 Name: Monica Vera
Age: 22
Major:  Marketing
Hometown: Hebbronville, TX 
Why UTRGV?
When I was in highschool, I was always surrounded by a tight-knit community. There was always somebody to lean on when times got tough, and many people to share your success with. With a senior class of 62 people, it was really easy to keep track of who went where. With everybody deciding to attend college in Kingsville, San Antonio, or Corpus Christi, I figured it was a good idea to find a fresh start in the Rio Grande Valley. I chose to come to UTRGV because it was the perfect choice for me. It was small enough for me to feel comfortable while being away from home, but big enough for me to discover new cultures, make new friends, and be able to find my own path in life. 
What made you decide on your current major?
I have always had an interest in business since I was a little girl. I was organized and always saw my greatest success when I was able to communicate with others and utilize my creativity. Since I grew up in a small town, I had the opportunity to have my hand in many different extracurriculars that allowed me to truly uncover my passion. It is no secret that I wasn't the strongest STEM student, so being in the medical field or an engineer was never an option. I realized that I must find a major that would allow me to utilize my organization, creativity and ambition. In my final semesters here at UTRGV, I feel very confident that I have chosen the right path for myself and am extremely passionate about what I want to do. 
What do you like most about UTRGV?
My favorite parts about UTRGV are the opportunities that it continuously presents its students. Whether it is the different speakers that present or the countless organizations there are, there is always an opportunity to try something new or step out of your comfort zone. There are events almost every day that are either major/minor specific or just general opportunities to get out and enjoy yourself. UTRGV is a university that is focused on community and student wellbeing, and it really shows. Over the years, I have grown attached to not only the campus, but the community feeling that this school brings.  

What does being a Vaquero mean to you?
Being a Vaquero means being a part of a family. I am proud of attending UTRGV and being a Vaquero because I have made this place my home. I have met the most amazing people with a passion for providing the best college experiences for students, and I am grateful for the role that they played in making me who I am today. UTRGV has been a place of learning and growth, and in order to fully get that experience, you must be open to new opportunities. 
What opportunities has UTRGV helped you find throughout your community?
My time at UTRGV has been spent involved on campus. From community service with the Freshman Leadership Academy, to meet and greets with Wilmer Valderrama and Daymond John. Also, as a UTRGV Homecoming Royal, I have been honored with so many opportunities that have allowed me to meet new people and grow as a person. Everywhere I turn there are new events, organizations, and opportunities to better myself both personally and professionally. While working in the Department of Housing and Residence Life, I learned that the smallest acts of kindness can go a long way. I was able to see the direct impact that being an RA had on my residents. My very first group of residents taught me the most important lesson of all, that I had the opportunity to make a difference by simply being a caring person and a friend. Despite not having much in common with a lot of them, I was able to make a difference in their experience here at UTRGV. I am so grateful for their kind words and encouragement because they allowed me to discover a passion for helping others and my new goal of working in higher education. I was inspired by the individuals who inspired me to work hard every day, because you never know whose life you can impact.
What are a few of your favorite books?
One book that has always had a huge impact on me is "The Five People You Meet in Heaven" by Mitch Album. I was an avid reader when I was younger and this book really open my eyes to the fact that all the decisions you make in life, even the small ones, can have a huge impact on other people. Another recent favorite is "The Power of Broke" by Daymond John. I picked up this book a few days before he came to UTRGV and it really opened my eyes to what you can do for your future, even if you do not have the physical resources quite yet.