Sub Menu Toggle
Michelle Hawkins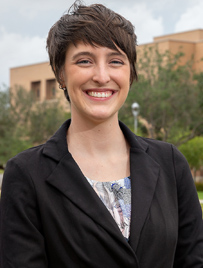 Name: Michelle Hawkins
Age: 19
Major: Communication Studies
College/Department: College of Liberal Arts
Hometown: Harlingen, Texas 
Why UTRGV?
I chose to attend UTRGV because of the opportunities it offers. I am able to pursue my higher education at a price I can afford while being close to home.  
What made you decide on your current major?
I decided to pursue a major in Communication Studies because it focuses on people and relationships, which stood out to me. I am constantly being challenged to improve myself. My dream is to one day become a professor. My passion is to teach others what I now know so that they can improve their own communication styles and, in turn, their own lives.

What do you like most about UTRGV?
What I like most about UTRGV are my professors. The Communications Dept. within UTRGV is home to many wonderful professors who care about my future. The amount of time, effort and care they invest in me will be the reason I succeed in my education and in my future career.
What are some of your favorite study spots on campus?
One of my favorite study spots on campus is Jazzman's café. I can't resist a good coffee and a comfy couch to plop down on and write.  
What does being a Vaquero mean to you?
I never was someone with a lot of school spirit. That is, until I began attending UTRGV. Being a Vaquero means being a part of a tight-knit community that is so much bigger than me. It means being the face of the future for the RGV. I am proud to be a Vaquero.
What opportunities has UTRGV helped you find throughout your community?
UTRGV has helped me realize that my passion for pursuing my higher education is possible. I had ruled out higher education after my bachelor's because I never thought it was attainable. Now, I want to go all the way and I know it is something I am capable of.

What are a few of your favorite books?
My absolute favorite book is "Frankenstein" by Mary Shelley because it explores the darker side of the human condition. This book perfectly depicts how our actions have consequences that affect those around us. My two favorite book series are the "Pendragon" series by D.J. MacHale and the "Lunar Chronicles" series by Merissa Meyer because they have inspired me to pursue my own dream of writing.

What's in your playlist right now?
You can never go wrong with good, old classics such as Beethoven, Bach, Vivaldi or Mozart. My absolute favorite genre is epic orchestral with composers such as Two Steps From Hell and Audiomachine sitting at the top of my favorites list.