Sub Menu Toggle
Mauricio Alonso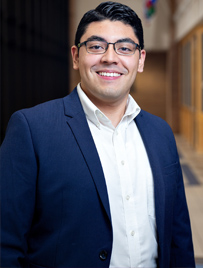 Name: Mauricio Alonso
Age: 22
Major: Accountancy
College/Department: Robert C. Vackar College of Business and Entrepreneurship
Hometown: Monterrey, Mexico 
Why UTRGV?
I chose UTRGV because of its affordability and commitment to provide quality education.
What made you decide on your current major?  
For me it was discovering the endless opportunities I could pursue with my degree. Accounting is always in demand despite the economic situation or type of industry. Personally, I am interested in public accounting as I can work in a variety of industries while helping clients better understand their business.
What do you like most about UTRGV?
The community: professors and students included. Throughout my studies I have met colleagues with goals, aspirations and an incredible drive to succeed. Also, my professors have been very supportive of my endeavors and are always pushing me to be become a better professional. Being surrounded by such people is truly inspiring.
What are some of your favorite study spots on campus?
My favorite spot has to be room 215 in the College of Business as it can be one of the most quiet and comfortable rooms. I also enjoy studying by the picnic table outside the Fieldhouse because it is peaceful, quiet, and you can hear the birds chirp in the afternoon.
What does being a Vaquero mean to you?
I feel glad when I listen to stories of students getting internships, being awarded national scholarships, and securing highly competitive jobs after graduation. To me, being a Vaquero is showing the world that we are a force to be reckoned with.
What opportunities has UTRGV helped you find throughout your community?
As a freshman, I joined the student organization IMA Edinburg and I can say it was one of the best decisions I made. I was able to hone my leadership and soft skills which led me to secure an internship at a very prestigious CPA firm. Also, working with these individuals on projects such as the IRS Volunteer Income Tax Assistance program and fundraisers made me realize the importance of giving back to the community that kindly welcomed me before.
What are a few of your favorite books?
When asked this question I always think of "Shoe Dog" by Phil Knight and "No Excuses!" by Brian Tracy. The former describes the journey of a man on the brink of losing everything in life but managed to keep his dream alive. On the other hand, Tracy's book demonstrates how we may become masters of our future if we stop making excuses. Both books are great reads.

What's in your playlist right now?
Lately, I have been listening to Daft Punk, Frank Sinatra, and Latin artists like Pesado and Carlos Vives.