Sub Menu Toggle
Luis Salinas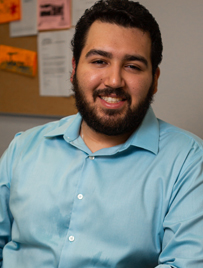 Name: Luis Enrique Salinas
Age: 20
Major: Clinical Laboratory Science
College/Department: College of Health Affairs
Hometown: McAllen, TX 
Why UTRGV?
Contrary to other younglings, I do quite love the Valley and would find it hard to ever leave! UTRGV offers the unique experience of obtaining a higher education while being able to stay close to friends and family.

What made you decide on your current major?
To be quite honest, it was my parents. Both are CLS's and have gone through the same program when they attended Pan-Am (the legacy institution). The subjects involved (clinical chemistry, hematology, immunohematology and microbiology) are also very interesting with so much to delve into.
What do you like most about UTRGV?
The campus is so open, most say they hate walking the far distances but I would say I quite enjoy the trek.

What are some of your favorite study spots on campus?
Definitely the fourth floor of the library; the most peaceful area I've encountered.

What does being a Vaquero mean to you?
Breaking expectations. Going to school in an area which doesn't hold such a positive image to some allows the opportunity to show how great the area and its people really are. 

What opportunities has UTRGV helped you find throughout your community?
With my program, I have access to critical clinical experiences at several hospital sites which allows me to get started after graduation ASAP. Additionally, I've already bonded with the laboratory staff at my hospital site.

What are a few of your favorite books?
"From a Buick 8" by Stephen King is an all-time favorite of mine. A real slow burn that might bore some out of their mind, but I thoroughly enjoyed it. I am also a huge fan of Dan Brown and his Robert Langdon series.

What's in your playlist right now?
Anything Chris Cornell related; God bless his soul. That man has a voice of an angel.