Sub Menu Toggle
Kimberly Scobey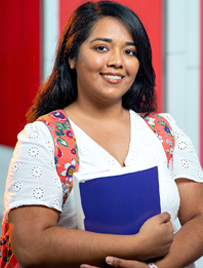 Name: Kimberly Kristine Scobey
Age: 25
Major: Early Care and Early Child Studies
College/Department: College of Education and P-16 Integration
Hometown: Weslaco, TX 
Why UTRGV?
UTRGV is home! It's a place where I feel welcomed and supported by my community. A university where diversity really is embraced and where student's voices are heard. As a family-oriented person, I always felt like being close to home was important. UTRGV offers just what I needed and allowed me to be close to what I love. Ever since I stepped foot on campus my junior year of high school, I saw all the beauty and hospitality UTRGV had to offer. Not only is UTRGV beautiful from the outside, but the faculty and staff are always helpful and polite.
What made you decide on your current major?
As a child I always knew I wanted to be a teacher. Every career day, I dressed up as what I thought a teacher looked like and I dreamed of having my own classroom one day. I have a passion for watching individuals grow. As a teacher, we have the privilege of seeing students grow not only through academics, but as a person. Being able to be a light in someone's path and guiding young minds to success is a privilege. I aspire to be a teacher my students will admire and always remember.
What do you like most about UTRGV?
UTRGV has a lot of school spirit. And above all, I love the pride they have in the community they are in. They embrace every culture that walks through the school and that is something I love.

What are some of your favorite study spots on campus?
My favorite study spot on campus is the second and third floor of the Education Complex building. There is this big window where you can see the scenery UTRGV has and it's a quiet spot and easy to get to.

What does being a Vaquero mean to you?
Being a Vaquero means being proud of where I come from. Vaqueros are students who come from all kinds of backgrounds. We have worked hard to get where we are and have pride in doing everything with a lot of heart and dedication.

What opportunities has UTRGV helped you find throughout your community?
UTRGV has allowed me to continue to grow as a future teacher and opened many doors for me. I have been able to be a part of events where I am able to learn from young children and work with them. I have been able to take these experiences and use them in the future.

What are a few of your favorite books?
Reading is my hobby. I cannot pick favorites because I have so many!

What's in your playlist right now?
I enjoy listening to different genres of music. So, my playlist ranges from George Strait to Tupac to Adele to Metallica!