Sub Menu Toggle
Joshua Ruiz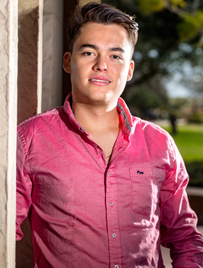 Name: Joshua Ruiz
Age: 21
Major: Computer Science
Hometown: Bogota, Colombia
Why UTRGV?
I chose UTRGV because it has a great chess team and because I was already friends with some of the team mates. Plus, I really liked the campus.  

What made you decide on your current major?
My father has a software company, so I have always been surrounded by computers. That is from where the taste comes from. 
What do you like most about UTRGV?
As I mentioned earlier, I really like the campus and I think that is what I like the most.

What are some of your favorite study spots on campus?
I really like the library but now that we have the Music, Science and Learning Center, I think it might be my favorite place.

What opportunities has UTRGV helped you find throughout your community?
First, just the fact that I can study outside my hometown and that I will get a degree in an American university is a gain, but living here far away of my family has helped me to grow as a person. Plus, I've met amazing people who have become my family.

What are a few of your favorite books?
"How to Win Friends and Influence People" by Dale Carnegie. This book is very helpful because it teaches you about human relations and how to apply them in business. Also "Los Años de Peregrinación del Chico Sin Color" by Haruki Murakami. It is a Japanese novel that, just in one month, had more than a million sales. It is a book that, as you read, you will want to read more so you can know the truth of the whole dilemma. You will be hooked by this book. Another one is "The Art of Learning: An Inner Journey to Optimal Performance" by Joshua Waitzkin. As the book says, it is about improving your performance in anything you practice, and as a chess player, it helped me a lot.

What's in your playlist right now?
As I am Latin, I listen to a lot of Salsa, Merengue, Bachata, Reggaeton, Vallenato and Popular music, (It is a Colombian music very similar to Banda, mariachi and rancheras). I also listen to Banda, Rancheras and Mariachi.