Sub Menu Toggle
Jose Palacio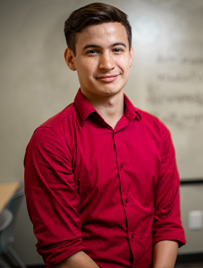 Name: Jose Palacio
Age: 21
Major: Mathematics 
College/Department: School of Mathematical and Statistical Sciences
Hometown: Mission, Texas
Why UTRGV? 
Unlike other universities, I felt that there was a cultural proximity that UTRGV was going to offer me that I was not going to find anywhere else. Also, fortunately, many of my relatives had the opportunity to attend this university, so I was already aware of the excellent quality of education that I could receive.
What made you decide on your current major?
When I was in 7th grade, one of my mentors asked me what the word "mathematics" meant, and after receiving no answer from me, he told me that for him mathematics was the mother of all sciences. Though I was very young, that comment changed my perception of everything around me and as I grew up, I began to look at life through the lens of mathematics. This led me to discover the great variety of fields of study and work opportunities that mathematics has to offer.
What do you like most about UTRGV?
The school's commitment to student success is what I love about this school. The freedom to get ahead is always met with support and enthusiasm from professors and faculty. This attitude inspires me to want to improve myself every day.
What are some of your favorite study spots on campus?
Honestly, I hate places that are completely silent! I feel that I concentrate better in areas like the laboratory on the first floor of the math building or the second floor of the library at the Edinburg campus—always with people I know.
What does being a Vaquero mean to you?
For me, being a Vaquero is an opportunity to demonstrate that, beyond our place of origin, it's important want to show that we can improve ourselves and reach far.
What opportunities has UTRGV helped you find throughout your community?
Recently, thanks to our Community Engagement class, my team and I had the opportunity to collaborate with the organization La Union del Pueblo Entero (LUPE) in an investigation to identify the problems caused by floods and stormwater in the Valley in a colonia in Los Fresnos. This project taught me to see the importance of teamwork, how the people of our community lack of resources, and how we, with what we have learned, could generate a positive change in their lives.
What are a few of your favorite books?
If I have to choose, I would definitely stay with the Harry Potter saga since my mom would read me the books as a child, all the Sherlock Holmes novels since he is my favorite fictional character, and finally, any of Agatha Christie's novels because, in my opinion, she is the best at writing mysteries.
What's in your playlist right now?
Lately, I've been listening to a bit of everything, but if there's a recurring artist in my playlist, it's Eminem.