Sub Menu Toggle
Jose Calderon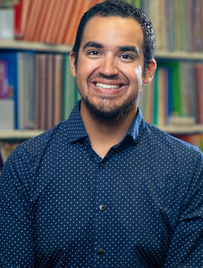 Name: Jose Eusebio Calderon IV
Age: 23
Major: Early Care and Early Child Studies
College/Department: College of Education and P-16 Integration
Hometown: Weslaco, TX 
Why UTRGV?
I chose UTRGV because of its affordable tuition and how close to home it was. Not many get the privilege of receiving a quality education close to home, and that was something I really wanted and UTRGV provided just that. I knew this was the right choice when I set foot on campus and saw the way UTRGV embraced the community and our culture.

What made you decide on your current major?
I chose to become a teacher because I wanted to be a part of something that allowed me to change lives as well as see growth right before me. Being a teacher gives me the opportunity to shape the paths and minds of the future men and women in the world. As someone who suffered a traumatic brain injury, I want to be a teacher like those who helped me get to where I am today. I want my students to admire and remember me for being someone who helped them overcome obstacles and who helped them grow academically and personally. 
What do you like most about UTRGV?
The way UTRGV embraces the community and the different cultures that are represented is something I really enjoy. The faculty and staff here at UTRGV are always helpful and polite. I enjoy walking around campus and seeing the scenery and all the organizations being represented throughout the university.

What are some of your favorite study spots on campus?
My favorite place to go study is the Education Complex building. The second and third floor allows for you to sit and enjoy the scenery and see outside. That allows me to relax and concentrate. It's a quiet area.

What does being a Vaquero mean to you?
Being a Vaquero means being a part of something big. UTRGV has grown so much and it continues to offer different types of opportunities.

What opportunities has UTRGV helped you find throughout your community?
UTRGV has allowed me to step foot in many schools and volunteer during many events. Through UTRGV, I have been able to learn from these events and will be able to use what I've learned in the future. Not only that, but being a part of the UTRGV Parking Enforcement, I have been able to see UTRGV grow and I've seen how the community embraces our university. 

What are a few of your favorite books?
My current favorite book is "Wonder." That book really teaches you a thing or two about life and how to treat others. It's a powerful book.

What's in your playlist right now?
I enjoy listening to Classic Rock and Metalcore. I listen to Metallica, We Came As Romans (my favorite), Def Leppard, and Journey... to name a few.