Sub Menu Toggle
Javier Zapata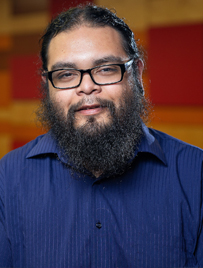 Name: Javier Zapata
Age: 30
Major: English with Teaching Certification 7-12
College/Department: English
Hometown: Alamo, Texas 
Why UTRGV?
Honestly, because it was close to home. My mother graduated from this school when it was UTPA and I always thought of attending, as well. Plus, since I was a kid, I attended many plays at the Jefferson Theatre, and I thought it was neat.

What made you decide on your current major?
Well, there are two reasons why I chose my major. One of them being that I had a mentor named Mr. Garza, who made me admire teaching and what it really meant to be a teacher who cared. My second reason is I love reading and writing. I enjoy creating and reading the creations of those who have written before me.
What do you like most about UTRGV?
The professors, the curriculum, and the campus itself. I've never felt, in a school setting, connected to a teacher or a mentor before. I found some of the people I admire the most when I enrolled to this university. Plus, if you like to play Pokémon Go, the campus is a must!

What are some of your favorite study spots on campus?
I study the most around Elabs. Most of my classes are here, and my usual hang out spot. Sometimes I enjoy studying in the Education complex, inside the reference center. Or sometimes inside of the study rooms at the library.

What does being a Vaquero mean to you?
Mainly, being a Vaquero means that you are trying to better yourself and your wellbeing with an education. Sure, some students might find that they are made to go to school, but I've never met someone that didn't have big aspirations at this university. Always trying to better yourself, your livelihood, race, or significant other is what it means to be a Vaquero.

What opportunities has UTRGV helped you find throughout your community?
There are plenty of opportunities that UTRGV has helped me with. It gave me a chance to join the UTCARES club that has helped me with my future teaching endeavors. This club gave me the opportunity to do community volunteer hours and plenty of chances to go to multiple professional developments for educators. This club let me give back to our community and gave me experience that I am going to go through once I am an educator. UTRGV also gave me the opportunity to join the Red Rover program. The Red Rover program allowed me to reach out to our community and read for children. There are many ways to accumulate observation and volunteering hours for any profession that you are headed after. I'm grateful for these opportunities.

What are a few of your favorite books?
My reading list has a little bit of everything mixed into one. I enjoy horror books, adventure books and classic literature books. Some of my favorite books are "On The Road" by Jack Kerouac, "It" by Stephen King, "The Giver" by Lois Lowry, "A Farewell to Arms" and "The Old Man and the Sea" by Ernest Hemingway.

What's in your playlist right now?
I tend to be more on the eclectic side of music. My favorite type of music is hard rock/ heavy metal, so there are a bunch of bands on my playlist like Slayer, Midnight, Iron Maiden, Judas Priest, Dark Throne, Black Sabbath, Tupac, Bone Thugs n Harmony, Merkules, Gabrielle Aplin, Fleetwood Mac, The Beatles, and the list goes on!