Sub Menu Toggle
Gabriel Carrizales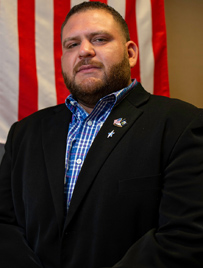 Name: Gabriel Esteban Carrizales Jr.
Age: 31
Major: Master of Science in Health Care Administration
College: College of Health Professionals
Hometown: Mission, Texas
High School: La Joya High School 
Why UTRGV?
After serving seven years in the United States Navy, I wanted to come home and start over. I knew I wanted to go to college locally. Before I got discharged, my mom, Criselda, and sister, Selina, motivated me to complete the paperwork to begin school at South Texas College. After they graduated, we all transferred to legacy institution UTPA. As a Veteran, I struggled at first with the transition into civilian life. The Military and Veterans Success Center on campus helped facilitate my transition into a full-time student, and I was hired as a work-study soon thereafter. Being around fellow student Veterans really made things easier, along with my family being with me every step of the way.
 
What made you decide on your current major?
As I was approaching the final semester before earning a bachelor's degree in Exercise Science, I did not have a major in mind for graduate school. After looking into potential programs, I settled on a major in health science as I felt it was extension of what I learned in exercise science. The driving factors for my settling on the major was that the program was online, so I could maintain a job while still going to school. 
What do you hope to achieve beyond completion of your major?
Right now, I am studying to go to medical school with the intention of becoming a cardiologist. My younger brother, Valentin, passed away from cardiomyopathy in 2009 at the age of 13. I was on my second deployment overseas when I received the Red Cross message that forever change my life. I was unable to be there for my brother, and I will never forget the horrible feeling of helplessness I had as I heard his last breaths over the phone. I hope to become a cardiologist to make a difference in people's lives that suffer from heart complications like my brother once did. 
What do you like most about UTRGV?
The Military and Veterans Success Center has been a real help these past few years. Before, I felt isolated - like no one could relate to me but being around other Veterans at the university made things easier. The Student Accessibility Services really helped as well. After my service, I had a hard time concentrating and staying focused, so the additional time on exams and assignments really made a difference in my grades. The staff is always friendly and understanding. Another resource that I admire is the Student Food Pantry on campus. Times were tough for my mother, sister, and I sometimes, but the Student Food Pantry was there whenever we needed to pick up some food.

What does being a Vaquero mean to you?
Being a Vaquero is about community, pride, and educating oneself. The university feels like a second home to me. Currently, I work as the Program Coordinator for the Military and Veterans Success Center, and every day I am reminded of what being a Vaquero means.

What opportunities has UTRGV helped you find throughout your community?
The Student Veterans of America on campus was my link to helping the community. I would bring my BBQ pit to campus and spend the whole day barbequing either to raise money or feed veterans and dependents on campus. Feeding people in the community is a great way to get know people and network with professionals.

What are a few of your favorite books?
One of my favorite books right now is "The Handmaids Tale" by Margaret Atwood. I really got into the show and was interested in how it parallels the politics of today, so I decided to read the source material. Second, is "1984" by George Orwell. Dystopian novels, even though they tend to be hyperbolic, are always interesting as a little bit of truth is always sprinkled in.

What's in your playlist right now?
My favorite type of music is Country, Reggaeton, Rock, Banda, Tejano, Rap, Pop, and Classical. In my truck I hear a variety of music from Daddy Yankee, Marilyn Manson, George Straight, Luke Combs, Bruno Mars, J Balvin, Los Tigres Del Norte, and Calibre 50.