Sub Menu Toggle
Francisco Menchaca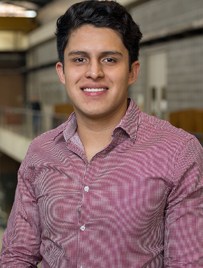 Name: Francisco Javier Menchaca
Age: 22
Major: Mechanical Engineering
College/Department: College of Engineering and Computer Science
Hometown: Querétaro, México 
Why UTRGV?
UTRGV was a great choice to earn my college degree because it had everything I was looking for: High academic quality, affordable tuition and it's conveniently near Mexico, the country where I was born. On top of that, UTRGV met my expectations because of their engineering programs which are known for their excellency. Even though choosing to come to UTRGV wasn't an easy decision because it meant leaving my home, I am grateful I chose to come because I got to grow not just academically, but also as a person.

What made you decide on your current major?
I have always enjoyed mathematics and physics, which are the two main sciences in the mechanical engineering degree. Pursuing a bachelor's in engineering gives you the opportunity to apply all the science theory to real life scenarios. Mechanical engineering is quite a broad major which gives you the tools to be successful at many kinds of professional environments such as manufacturing, civil, or even electrical engineering.
What do you like most about UTRGV?
What I like most about UTRGV, besides its great faculty, are the opportunities they provide outside the classroom. There are fascinating extracurricular courses, activities, and societies that are open for you to make your college experience great!

What are some of your favorite study spots on campus?
I have always enjoyed doing homework and studying by myself or in groups in the Library's second floor. Another nice spot to study are the study rooms at the new science building. They give you inspiration to actually study.

What does being a Vaquero mean to you?
Being a Vaquero makes me proud of the region and people that I am representing - Latinos. I have seen UTRGV grow exponentially since my first day of class and I'm very proud of the university I chose to attend.

What opportunities has UTRGV helped you find throughout your community?
Throughout my college experience, I have worked as a game room attendant at the Student Union, student technician consultant at the Industrial Assessment Center and as an undergraduate research assistant for Partnership for Research and Education in Materials Science (PREM). These different on-campus jobs have helped me develop important soft and technical skills in order to build a strong resume and find opportunities like internships, full-time offers, etc.

What are a few of your favorite books?
I love the Harry Potter books by J.K. Rowling because of the great lessons it has taught me, such as facing your fears and going for what you want instead of waiting for things to happen. Some other books that I have also enjoyed are "Looking for Alaska" by John Green, "The Girl on the Train" by Paula Hawkins and "The Alchemist" by Paulo Coelho. I really like to read novels, but I must be honest and say that I have just been reading engineering books lately.

What's in your playlist right now?
I enjoy all the Latina music a lot! The playlist that I mostly listen to in Spotify is "Éxitos México." I love it because it gets updated with new and trending music all the time.