Sub Menu Toggle
Dora Cantu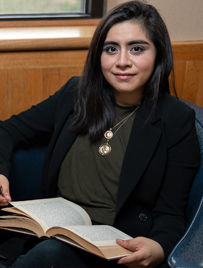 Name: Dora Alicia Cantú García
Age: 21
Major: English and Mexican American Studies
College: College of Liberal Arts
Hometown: Hidalgo
High School: Hidalgo Early College High School 
Why UTRGV?
Beneath the green palms and the blazing sun of the RGV there are talented individuals working, thriving and changing lives. An underestimated establishment that fosters talent, opportunity, accessibility and community, the University of Texas Rio Grande Valley holds a phenomenal selection of thought-provoking courses I've found within both my majors. It is also home to the most wise, kind and awe-inspiring staff and professors who are passionate about their profession and their students. UTRGV is a place where students like me can plant their foundational seeds and watch them grow, all within the comforts of home.
What made you decide on your current majors?
I have always been enraptured by the innerworkings of literature and have aspired to meliorate my skills as a creative writer. Majoring in English has enabled me to read, research and write in ways I had never done before. Likewise, after taking an Intro. to Mexican American Literature course, I realized there was so much I had yet to learn about my own culture, thus I decided to pursue my second degree in Mexican American Studies.
What do you hope to achieve beyond completion of your major?
I intend to continue my education by attending law school to become a practicing attorney specializing in immigration law. I also endeavor to continue writing in the creative and didactic spheres of publications.
What do you like most about UTRGV?
The courses and their respective professors who create such encouraging, understanding and insightful environments.

What does being a Vaquero mean to you?
It means pride - pride in your culture, your family and your community. It symbolizes growth, opportunity and resilience.

What opportunities has UTRGV helped you find throughout your community?
The ability to work closely with professors on didactic and creative projects. I will never forget how my amazing English professors helped me prepare my academic papers to present in conferences all within my first year here. To be surrounded by other prodigiously talented individuals who are filled to the brim with creativity, passion and a willingness to help others hone their craft is just so refreshing and inspiring.

What are a few of your favorite books?
As an English major and avid reader, I find this question a tad unfair. Nevertheless, here are a few of my latest obsessions:
"The Idiot" by Elif Batuman - My witty life accompaniment that perfectly encapsulates every aspect of the difficulties that come with constructing a self.
"The Tenant of Wildfell Hall" by Anne Brontë - Not only does it fulfill my Victorian dreams in its epistolary form, but the book's piquant character musings and themes are so ahead of its time, it's incredible. Pure genius.
"The Tequila Worm" by Viola Canales - This book is so special, not just because it was the first book that I was able to read and recognize myself in, in terms of culture, family and experience, but because it was written by a woman from the Valley who grew up to be a lawyer and was able to share this beautiful story she had in her heart. This book and author are the embodiment of what I would like to someday accomplish.

What's in your playlist right now?
Halsey. I love the words she is able to weave intricately together to create such beautiful stories. Her songs are poems that capture the complexity of any emotion she chooses to depict. The way she manipulates every aspect of her creative space when writing and composing her music is just so inspirational.