Sub Menu Toggle
Deborah Contreras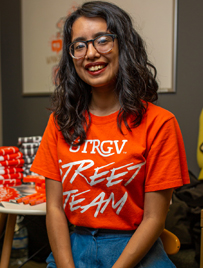 Name: Deborah Contreras
Age: 22
Major: Mass Communications
College/Department: College of Liberal Arts
Hometown: Brownsville, TX 
Why UTRGV?
My father helped guide me to decide on UTRGV. He had attended UTB/TSC and advised me that moving to another university away from family can be a difficult adjustment. He made me realize that the university has many resources that could help make my college experience easy while having the resources I needed at home to help.

What made you decide on your current major?
Choosing a major can be a difficult process since it puts pressure on believing it's the only thing we can do after we graduate. I chose to major in public relations because I have a lot of interests I want to pursue in my life and a strength in being able to communicate effectivity with others. It was the best choice for me, and I ultimately want to help others with the skills I have acquired while studying at UTRGV. 
What do you like most about UTRGV?
I love the passion the UTRGV staff has for the university. I work in the Marketing and Communications Dept. at UTRGV and getting to work with them has been a wonderful experience. They strive for the best work they can create, and you can see the passion they have for making UTRGV the best it can be.

What are some of your favorite study spots on campus?
I enjoy studying on the second floor of the Edinburg Science Building because it's quiet enough so I can focus on the assignments I'm completing. In Brownsville, I really enjoy any place outside - if the weather allows it - so I can be out a bit away from the cold air conditioning.

What does being a Vaquero mean to you?
I take pride that I am a part of the early history of UTRGV. I think it's fascinating to be a part of those early stages that will shape the image of our university. As Vaqueros, we can work together to form new traditions and set high standards for our campus.  

What opportunities has UTRGV helped you find throughout your community?
I really have to thank my professor, Dr. Pamala Herring, for helping me get to my goals. Her environmental studies class allowed me to explore my creative side while helping my community. Creating a project to help educate young children also helped me get a job at UTRGV and reminded me why I wanted to help the environment. 

What are a few of your favorite books?
I just look like I read a lot, but I haven't really read any books recently other than my textbooks. The Ecological Impact Assessment textbook is a great read for anyone that is studying to identify the potential impacts on an ecosystem or their components.

What's in your playlist right now?
I love listening to Taylor Swift - she has a song for any mood I'm in and captures those feeling perfectly with her lyrics.