Sub Menu Toggle
Daniela Montalvo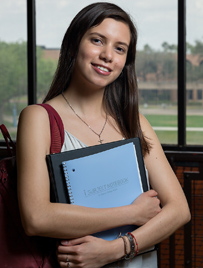 Name: Daniela Montalvo
Age: 20
Major: Interdisciplinary Studies with a concentration in Special Education Specialization
College/Department: College of Education and P-16 Integration
Hometown: McAllen, TX 
Why UTRGV?
The University of Texas offers a high-quality education and opportunities for growth and development that are hard to find in other universities. UTRGV Professors are really engaged with the performance of their students and they are willing to go the extra mile for us to succeed. I believe that UTRGV has the diversity you find on campus because this gives you the opportunity to get involved with people from different backgrounds, which help us to expand our cultural knowledge.

What made you decide on your current major?
I always thought that my future work should focus on my contributions to making a change in the world. After volunteering at the Children's Association for Maximum Potential I knew that I wanted to be someone that made a difference in some else's life. Teaching is a profession in which you receive what you give, and you must engage with society to create the best professionals for the future. 
What do you like most about UTRGV?
The support they give to their international students. Sometimes it is hard to find it at other universities and at UTRGV it is a priority to encourage students to get a better education regardless the differences they might have. UTRGV is an inclusive university and you can see this in their students being comfortable and having a sense of belonging.

What are some of your favorite study spots on campus?
The Education Building and the third floor of the library are my go-to spots to study!

What does being a Vaquero mean to you?
For me, being a Vaquero is a responsibility because I feel it's my duty as a student to uplift the name of the university through hard work, consistency and determination.

What opportunities has UTRGV helped you find throughout your community?
Currently I am working at the Student Union on the Edinburg campus. It has been a great opportunity to be able to work and study. As an international student, this kind of opportunity is difficult to find. Thanks to UTRGV and the Student Union I also can grow and visualize the profession that I'm pursuing. They helped me get out of my comfort zone and set new goal standards, all of this while making memories and friendships.

What are a few of your favorite books?
My all-time favorite books will always be "The Little Prince" and "Tuesdays With Morrie." Even though they are very different, these books give you the opportunity to see it with a new set of eyes every time you read it. What I value the most about books is the feeling they give you after you finish them - that feeling of excitement and how they fulfill you in ways you cannot explain. These two books give me a lot of hope in how I want to live my life.
What's in your playlist right now?
I listen to different kinds of music every day but some of my favorites are Vance Joy and The Lumineers.