Sub Menu Toggle
Cinthia Monsivais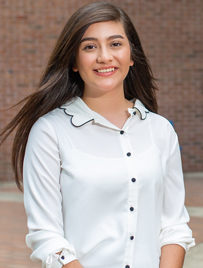 Name: Cinthia Monsivais
Age: 20
Major: Mass Communications
College/Department: College of Liberal Arts
Hometown: La Feria, TX 
Why UTRGV?
When I first learned about UTRGV it was exciting to me because the merge between the two legacy universities, UTPA and UTB, meant more opportunities and I wanted to be part of the growth. When I realized that I wanted to go into Mass Communications, I started researching programs offered in Texas. I was happy to hear from my high school journalism teacher about all the opportunities UTRGV's Mass Communications program offered because it meant that by choosing this university, I could stay close to home while still getting a quality education.

What made you decide on your current major?
I've always had hobbies related to some form of journalism, but it wasn't until my sophomore year in high school that I realized I could turn these hobbies into a career. When I started taking journalism as an elective and joined the yearbook staff, it was eye-opening because it made me see how fascinating the world of news writing, editing and photo/video journalism really is.
What do you like most about UTRGV?
My favorite thing about UTRGV is how community-based it is. I also love that even though the university is growing, the professors still make it a priority to have that one-on-one communication with every student, making it easy for students to get the most out of their education.

What are some of your favorite study spots on campus?
Even though it gets loud at times, my go-to spot on campus is upstairs of the Edinburg Student Union. I just love that because it's right in the center of campus and it's close to almost every building that I usually have my classes in. As for the noise, as long as I have my earphones, I don't really mind it. 

What does being a Vaquero mean to you?
To me, being a Vaquero means taking pride in the university and giving back to the community.  

What opportunities has UTRGV helped you find throughout your community?
I have been very blessed to be able to find a job on campus that will open opportunities for my career in the future and has allowed me to gain field experience that will strengthen my skill set.

What are a few of your favorite books?
I've always loved "Stargirl" by Jerry Spinelli. It was given to me as a present when I was in fifth grade and has been my favorite since. I also really like Truman Capote's "In Cold Blood," a nonfiction True Crime novel.

What's in your playlist right now?
I am currently loving Jaden Smith's album "ERYS" and an artist named Lolo Zouaï.