Sub Menu Toggle
Anthony Rivera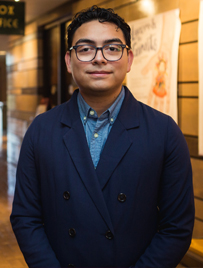 Name: Anthony Rivera
Age: 20
Major: Mass Communications
College/Department: Liberal Arts
Hometown: Sullivan City, TX 
Why UTRGV?
Coming to UTRGV was an idea that sparked in me when I came to a summer camp here called MUSE. During this summer camp, I was able to meet staff and students from UTRGV. After participating in that camp, I knew that this was the place for me. After applying for scholarships, I was awarded a housing scholarship which allowed me to be a part of Abriendo Caminos, a Living Learning Community that has given me the opportunity to live on campus and be a bigger part of the UTRGV community.
What made you decide on your current major?
Mass Communication is all about working with people and that has always been my passion. Knowing that a simple advertisement can have a huge impact on people makes me think about how much impact I can have on the community. I hope to one day work in the world of PR to be the bridge between a company and their consumers.
What do you like most about UTRGV?
Some of the things I love about UTRGV is that there's so much to do and there's always something going on. Every time I walk around campus there's always an event happening somewhere. It's always great seeing students coming together at an event.

What are some of your favorite study spots on campus?
As an Abriendo Caminos scholar, I have access to a lab at Emilia Hall for our LLC. Most of the time I can be found there at Emilia Hall studying and working on my homework.

What does being a Vaquero mean to you?
Being a Vaquero to me means being a proud representation of this institution. To uphold what this university stands for and create a positive impact on the community. Being a Vaquero means being a part of a family that helps one another to achieve great things.

What opportunities has UTRGV helped you find throughout your community?
During my time here at the university I have met some amazing faculty and staff, some which have grown to be great mentors to me such at Barbara J. Garza and Diana Echeverria Robinette, who have given me countless opportunities through which I have grown as an individual.

What are a few of your favorite books?
One of my favorite books right now is Ellen DeGeneres "Seriously…I'm Kidding." It's full of laughs and slight serious topics.    

What's in your playlist right now?
My music playlist really has a mix of everything from classical music to current Pop! At the moment I'm loving "Don't Stop Me Now" by Queen because it's a song that reminds me it's almost time for graduation!