Sub Menu Toggle
Andres Vela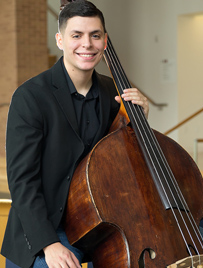 Name: Andres Vela
Age: 21
Major: Music Performance
Hometown: Edinburg, TX
Why UTRGV?  
One of the main reasons for choosing UTRGV is that I already had been taking private lessons for three years with the professor of double bass, Dr. George Amorim. I wanted to continue studying music at the university level because I really enjoyed working with him and knew that there was much more to learn.

What made you decide on your current major?
I've always had a great amount of appreciation for music. I joined orchestra in the sixth grade and was a part of the All-Region and All-State orchestras throughout my middle and high school years. I enjoyed working with great musicians and meeting new people and decided that I wanted to continue that in college. I have since had the opportunity to travel and perform in different countries like Germany, the Czech Republic, Italy, China and Aruba. I have also been part of various summer music festivals like the National Youth Orchestra of the United States, Round Top Festival Institute, Aruba Symphony Festival, Classical Music Institute, Texas Music Festival and Aspen Music festival. 
What do you like most about UTRGV?
As a music student, one my favorite things about the UTRGV School of Music is that it provides many opportunities to perform and make music with fellow colleagues. 

What are some of your favorite study spots on campus?
My favorite study spot would be inside any of the practice rooms in the Performing Arts Complex, Building C. Being isolated in these rooms helps me stay focused and work more effectively without any distractions.

What does being a Vaquero mean to you?
To me, being a Vaquero means to work hard toward your goals every single day, having trust in the process, and loving your craft.

What opportunities has UTRGV helped you find throughout your community?
Since my acceptance here at the UTRGV School of Music, I've had the opportunity to perform with various professional ensembles. I have performed with the Corpus Christi Symphony as well the Chamber Orchestra of San Antonio and many other smaller ensembles in the area. 
What are a few of your favorite books?
I don't have any favorite books that I have read, but I do enjoy reading anything music related that I can get my hands on. Anything from sheet music, scores, or books about important classical composers.

What's in your playlist right now?
Bach, Beethoven, Mozart, Schubert, Tchaikovsky, Prokofiev and Shostakovich.