Sub Menu Toggle
Andrea Salinas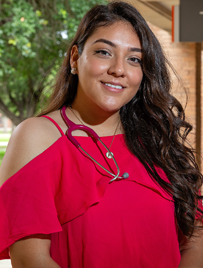 Name: Andrea Abigail Salinas
Age: 25
Major: Nursing
College/Department: College of Health Affairs
Hometown: Edinburg, TX 
Why UTRGV?
As a migrant student, UTRGV offered me the support and guidance to continue with my education. UTRGV is one of the universities in the country that has programs to assist students with migrant backgrounds like me. This university gave me the opportunity to expand my education and stay close to my family.

What made you decide on your current major?
I decided to pursue a major in nursing because this profession encompass respect and love for life in all its manifestations. Nursing is a humble profession that has the privilege to create a positive impact on people's lives. The nursing profession goes beyond caring for people who suffer from injuries or illnesses. It is a profession that gives you the opportunity to serve people in need and enhance their quality of life. Nursing is not a choice for me, it is a call to serve my community with love and respect. Being a nurse is my biggest dream.
What do you like most about UTRGV?
One of the things that I like most about UTRGV are the educational opportunities the university offers to the students. I like how the university has a rich diversity and culture, and how the university is constantly working to offer more resources to the community.
What are some of your favorite study spots on campus?
My favorite area to study on campus is the fourth floor in the library. This is a quiet and peaceful area where I read and prepare for my exams. Also, I enjoy going to the STAC building because I find tranquility there to focus on my readings.
What does being a Vaquero mean to you?
Being part of the Vaquero family reflects how proud I am of my culture and my roots. To me, being a Vaquero means effort, loyalty, and pride of origin. Attending UTRGV represents all efforts and passion to accomplish one of my biggest dreams in life - being a nurse.

What opportunities has UTRGV helped you find throughout your community?
During the last two years, I have had the opportunity to be part of the P-16 Outreach Department. I collaborate with them with activities, conferences and camps to promote the importance of college education. Through this program, I learned valuable information about scholarships and resources to help my community.

What are a few of your favorite books?
"Becoming" by Michelle Obama and "The Alchemist" by Pablo Coelho.

What's in your playlist right now?
My favorite song is "Humble and Kind" by Tim McGraw. I like Spanish music and my favorite band is La Oreja de Van Gogh and Carla Morrison.