Sub Menu Toggle
Amanda Pena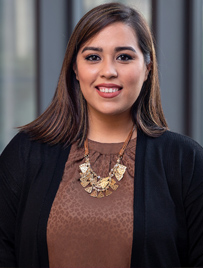 Name: Amanda Nicole Peña
Age: 27
Major: English with Concentration in Grades 7-12
College/Department: College of Education and P-16 Integration
Hometown: McAllen, TX 
Why UTRGV?
I chose UTRGV because it was the best possible option that fit into my busy lifestyle. With having other responsibilities like being a mom and working full-time, UTRGV's online and afternoon courses made it so that I could pursue my dreams of higher education while still upholding my responsibilities.
What made you decide on your current major?
The decision to pick my major was an easy one for me since education has always felt like where I belong. I'm a firm believer that there is always something to learn and that it's our duty as people to share what we know with others. I also like the idea that as a teacher, I could be that change for someone. I could be the one to believe in a student and their abilities and spark a fire that leads them to become someone great.
What do you like most about UTRGV?
The best thing about UTRGV, to me, is the professors. The professors are extremely knowledgeable and push students to achieve their own excellence. I can honestly say that the majority of the accomplishments I've had here at UTRGV would not have been possible without my professors encouraging me to try again, try harder and take a chance in submitting my work to publishers.
What are some of your favorite study spots on campus?
My favorite study spot has to be on the benches of the second floor of the education building. With all the natural sunlight that beams in through the tall glass windows, the pop of color on the walls and the beautiful view of courtyard, I find I can focus better there.
What does being a Vaquero mean to you?
To me, being a Vaquero means possibilities and representation. This university puts culture and unfathomable amounts of opportunities at its forefront and gives everyone a chance to discover more about themselves than they knew existed. I'm so grateful and proud to be a Vaquero.

What opportunities has UTRGV helped you find throughout your community?
UTRGV got me in touch with the means to be able to give back to my community using Engagement Zone. I have always been interested in volunteering and giving back to my community but was never sure of just how to go about it. UTRGV made it extremely easy for me to find organizations, like the Special Olympics and Keep McAllen Beautiful, who needed helping hands. It's because of these opportunities that I have a new annual resolution to volunteer at least two to three times a year.

What are a few of your favorite books?
Before I got to UTRGV, I was stuck reading popular mainstream books, but luckily, I took Children's and Adolescent Literature with Dr. Cummins and was introduced to a book that's become one of my new favorites, "The Tequila Worm" by Viola Canales. The story quickly grabbed my interest because of how culturally relevant it is and how its setting is in my hometown. It was the first time I understood the power of inclusivity because I felt such a rush reading about a character that was so much like myself. My other favorite books definitely include the Harry Potter series and "The Great Gatsby." Anyone who knows me knows I am an obsessive Harry Potter fanatic. As for "The Great Gatsby," who doesn't love a good tragic love story?

What's in your playlist right now?
My playlist is just a big variety of everything. I have acoustic guitar and piano to get me through studying, alternative rock and electropop to help me stay energetic, and sappy love songs to keep the romantic in me alive. It all depends on what mood I'm in, but regardless, the music is always on full blast.