Sub Menu Toggle
Amanda Champion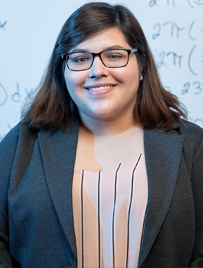 Name: Amanda Champion
Age: 19
Major: Physics
Hometown: McAllen 
Why UTRGV?
UTRGV is not only more affordable than other UT schools, but it is close to home making it the perfect university to earn a bachelor's from.

What made you decide on your current major?
Before I decided to major in physics and minor in astronomy, I decided that I wanted to work for NASA. I thought about an astronomy major, but physics caught my attention when in high school. Astronomy is essentially physics applied but after advancing further in physics I realized I don't want to solely focus on astronomy but branch out within the different areas of physics. After this, being a physicist for NASA became my goal.
What do you like most about UTRGV?
UTRGV offers a lot of support between faculty and students. There is a lot of support from the physics and astronomy professors, too. Since UTRGV is a research university, I have had the opportunity to work with my research mentor, Dr. Lee, and gain experience doing astronomy related research. UTRGV has given me this opportunity which will be useful within my career.

What are some of your favorite study spots on campus?
The new wing of the science building is very convenient to study in. Many of the conference rooms have whiteboards from the ceiling to floor, this comes in handy when working out different equations. For a certain amount of time physics students were given a room to study in in the physical science building. This room had both smart boards and white boards which was very beneficial, it also provided a place for all physics students to study together.

What opportunities has UTRGV helped you find throughout your community?
I have joined two organizations at UTRGV, Society of Physics Students and Astronomy Club, and while participating, my passion for physics and astronomy has only increased. I have realized there is a lack of women in STEM so to help the growth of women in these STEM programs, we have taken the opportunity to create our own organization. It is still in the process of being approved but hopefully by spring 2019 we will be able to help empower women in STEM at UTRGV.

What are a few of your favorite books?
One of my favorite books is "Apollo Expeditions to the Moon: The NASA History." Being an aspiring NASA employee, this book captivated me while learning the history behind the moon landing. Of course, the Harry Potter series will always have a special place in my heart because I grew up with the wizarding world.

What's in your playlist right now?
I listen to a variation of artists such as The Eagles, Ed Sheeran and Panic! At The Disco, but when studying I like to listen to movie soundtracks. Two of my favorites are The Theory of Everything soundtrack by Jóhann Jóhannsson and the Fantastic Beasts and Where to Find Them soundtrack by James Newton Howard.