Sub Menu Toggle
Alejandra Ramirez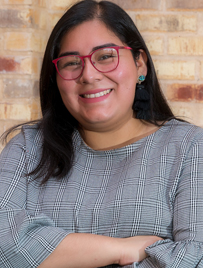 Name: Alejandra Ramirez
Age: 21
Major: Political Science
Hometown: Brownsville 
Why UTRGV?
I chose UTRGV overall because of its commitment to provide a high-level education to all students and its location near home. Additionally, UTRGV provided me the opportunity to attend college at an affordable price. Although newly founded, I am convinced UTRGV will soon be recognized amongst the higher-ranking universities not only in the state, but in the nation through the continued efforts and hard work of its students committed to make a difference.
What made you decide on your current major?
I have always been interested in the policy making process of our country and have been committed to make a positive change in my community. I believe pursuing a major in political science can help me land a position through which I can help shape and influence policy making for the betterment of my community. Although I am still unsure of what path I want to take upon graduation, I am very interested in foreign policy.
What do you like most about UTRGV?
What I most like about UTRGV is the sense of belonging and inclusiveness. UTRGV has become a place where I can be myself and our small population makes professor-student interactions very accessible.

What are some of your favorite study spots on campus?
The Brownsville campus' architecture is beautiful and some of my favorite places on campus are La Sala where I can study in the lounge area upstairs, or when the weather is nice, the student union veranda or the sculpture garden.

What does being a Vaquero mean to you?
Being a Vaquero means representing our community. Being a vaquero is striving to be the best and never forgetting our roots. I take pride in being a Vaquero; it is through our hard work and dedication that we will take the name of our university to be recognized amongst the best.
What opportunities has UTRGV helped you find throughout your community?
For the past two years, I have been employed at the Office of Student Involvement where I have been actively involved in the planning and execution of many great events on campus. Through my employment at SI, I have also had the opportunity to make great connections with faculty and staff members. I have partaken in many different leadership opportunities that have helped me further develop my leadership and life skills.
What are a few of your favorite books?
A couple of my favorite books are "Becoming" by M. Obama, and "All the King's Men" by R.P. Warren. Michelle Obama is one of my role models who I look up to and "Becoming" is a great biography of Ms. Obama and her journey to becoming FLOTUS. This book inspires me to keep going despite the adversities to achieve my goals just as she did. "All the King's Men" is a great novel that teaches us all actions have consequences and although it may be difficult to comprehend due to its non-chronological narrative, it is a great novel.

What's in your playlist right now?
I listen to a lot of chill music and KPOP. My favorite song is "All I've Ever Known" by Bahamas.