Sub Menu Toggle
Aldo Vazquez Alvarado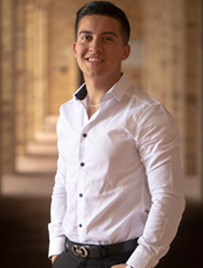 Name: Aldo Vazquez Alvarado
Age: 23
Major: Business Management
Hometown: Matamoros, Tamaulipas, Mexico 
Why UTRGV?
Since I was in high school, I was always sure that I wanted to continue my education in another city in order to face new challenges and meet new people. Even though UTRGV was always my first option, there was a point where I thought about going to Monterrey because my dad graduated there. However, the people, the culture, and the facilities at UTRGV convinced me so fast to stay, that I didn't hesitate to make my decision. 
What made you decide on your current major?
I have always felt a lot of passion for innovation, persuasion, and entrepreneurship. Since I was 14 years old, I felt a great attraction for the business environment and the way it worked. However, I must admit that my mom was my main inspiration for my decision because she has been an HR manager for more than 20 years. I really like to listen to the advice she gives me and learn as much as I can from her. 
What do you like most about UTRGV?
What I like most about UTRGV is the culture, the people, and the values. It is amazing how everyone is always willing to help you out with everything you need. In fact, I dare to say that I have met the best professors, friends, bosses and coworkers at this great university.
What are some of your favorite study spots on campus?
To be honest I can't think of a better study spot than the large tables in the library's second floor. I am about to graduate, but since I was a freshman, this has been my favorite spot to do everything. It's like a magical thing, because every time I sit here, I automatically get inspired enough to get all my assignments done.
What does being a Vaquero mean to you?
The first thing that comes to my mind is family. I have always thought that being part of UTRGV is being part of a great family. I'm proud to be part of this institution that I have also been working at for two years as an Orientation Leader. I express my gratitude by encouraging incoming students to be part of this family.

What opportunities has UTRGV helped you find throughout your community?
One of my favorite opportunities are the language programs offered. Since I am doing a French language minor, I am very glad that UTRGV provides students the opportunity to study abroad and live a complete experience.
What are a few of your favorite books?
My favorite book is "The Secret." I like it is because it helps you understand how you can achieve and attract great things just by taking advantage of the power of your mind and positive thoughts.

What's in your playlist right now?
Honestly, I'm a very versatile person when it comes to music. I can go from Ed Sheeran and Coldplay to J Balvin and Ozuna in just a moment. I would say this depends on the mood I'm in. Nevertheless, most of the time I'm listening to Reggaeton and Trap.