Sub Menu Toggle
Alda Jimenez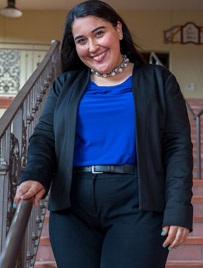 Name: Alda Mariela Jimenez
Age: 20
Major: Interdisciplinary Studies with a specialization in Bilingual Education
Hometown: Brownsville 
Why UTRGV?
UTRGV gave me the opportunity to remain close to my family while giving me a high-quality education. I had applied to several schools outside of Brownsville, but staying felt like the best option and I don't regret it one bit. UTRGV has become my home, and I am forever thankful for all the amazing opportunities that have crossed my path.

What made you decide on your current major?
Fun fact: In high school, I was on the criminal justice pathway. My dream at the time was to become the best detective and solve all the murder cases. I now laugh because there is NO WAY I can be on the criminal justice pathway and become a detective. I would immediately cry after seeing a dead body. I am the most sentimental person in the world! I decided on an Interdisciplinary Studies major with a specialization in Bilingual Education because I found that my passion is to motivate and guide students. I love the education field and my goal within it is to get my masters in Counseling and Guidance to eventually become a school counselor. I want to be there for each one of my students and motivate them to become contributing members of society.
What do you like most about UTRGV?
What I most like most about UTRGV is having the opportunity to meet different people. These past three years, I have met the most wonderful co-workers/friends/professors that have made my college experience remarkable so far.

What does being a Vaquero mean to you?
Being a Vaquero means to be a part of a group of students that are striving to break the stereotypes of the RGV. The lower RGV is considered one of the poorest regions in the nation. UTRGV gave me the blessing of meeting so many students that genuinely want to make a difference in the world. I believe in them and I know that they will inspire the world one day; being in the poorest area of the world will not be a factor for them not to achieve their dreams.
What opportunities has UTRGV helped you find throughout your community?
Working for the Student Involvement office from 2016 to 2018 helped me get out of my shell my freshman year and is the reason why I joined several organizations on campus. I am a member of the Bilingual Education Student Organization, the Alpha Lambda Delta Honor Society, and the National Society of Leadership and Success. These organizations helped me get involved around campus and within my community, which I love to do. I am currently an AmeriCorps member which gives me the opportunity to serve high school students and help guide them through their start of their college career. Interacting and guiding students is truly my passion, and I am blessed to be currently doing what I love to do most.
What are a few of your favorite books?
I am your classic hopeless romantic! My favorite book series is definitely "To All the Boys I've Loved Before" by Jenny Han; I've read all three books in the trilogy. When they came out with the movie, I totally freaked out! I also really enjoy reading books about life like "This is me Letting You Go" by Heidi Priebe.

What's in your playlist right now?
I listen to all kinds of music. I listen to country, Mexican banda, pop; it's always different. I have many favorite songs at the moment. A couple would be "Créeme" by Karol G and Maluma, "Girls Like You" by Maroon 5 and Cardi B, "Yo No Merezco Volver" by Morat, "No Se Va" by Morat, "Ya Me Enteré" by Chayin Rubio, "Egoísta" by Gerardo Ortiz, "Break Up in the End" by Cole Swindell, "Rumor" by Lee Brice, and I could go on and on as you can see.