Sub Menu Toggle
Vanessa Prado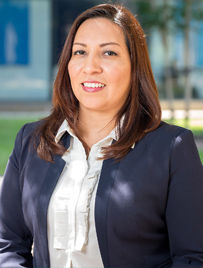 Name: Maria Vanessa Prado
Age: 36
Major: Business Administration
Hometown: Hidalgo
Why UTRGV?
I chose UTRGV because of its culture, affordability and location. I took a combination of online and traditional classes; this made easier to take care of my family, work full-time and attend classes full-time. The endless support from my husband and children allowed me to take on many opportunities, and I am graduating ahead of time.
What made you decide on your current major?
My major in Business Administration fitted my past work experience and my goals for the future. I decided on a concentration in Economics because I wanted to learn more about public finance and the labor market, and how the decisions made by the government affect us.
What do you like most about UTRGV?
I like that UTRGV is very inclusive. As a nontraditional student, I had the same opportunities as anyone else. Last summer I was part of the Study Abroad Program. With the full support of my family, I took the chance to study Project Management in South Korea and Japan. We visited different companies and attended classes at different universities. To study abroad and experience both cultures was a dream come true.
What are some of your favorite study spots on campus?
Some of my favorite places to study are in the education complex, the fountain area outside the College of Business and the third floor of the library.
What does being a Vaquero mean to you?
It means being part of a great community with a culture of service, and students and staff working together to achieve excellence.
What opportunities has UTRGV helped you find throughout your community?
In my first semester I visited the Advising Center of the College of Business and I met a great professor who encouraged me to apply for an internship. I was hesitant at first thinking that internships were only for students without previous work experience, but I was wrong. I applied and became the first intern in the Human Resources recruitment department. Upon completion of my internship, I was offered the opportunity to become Student Assistant, and recently, I was hired as a full-time employee. It is an honor to be part of this great institution and of the Human Resources team. They have supported me in continuing my education and I see myself as part of the team for many years to come.
What are a few of your favorite books?
I love poetry, and my favorite author is Pablo Neruda. Veinte Poemas de Amor y Una Cancion Desesperada is my favorite book. I recently read a book with my daughters called Taking Hold: From Migrant Child to Columbia University by Francisco Jimenez. This book is very inspirational, it describes how our background does not limit how successful we can be if we work hard to achieve our goals.