Sub Menu Toggle
Sandra Masso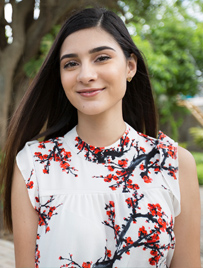 Name: Sandra Masso
Age: 19
Major: Occupational Therapy
Hometown: Brownsville 
Why UTRGV?
Besides UTRGV being close to home, family, and friends, I chose to attend UTRGV because of its high-quality education for my major and all the opportunities it will open for me in the future. UTRGV offers a great Occupational Therapy Master's Program, which not many universities offer, and it will help me fulfill my goals in life. 
What made you decide on your current major?
Having the opportunity to be very active and play many sports my whole life, I have gotten to experience a lot of great moments I am never going to forget. So, a passion grew in me. That passion is that I want people with physical and mental disabilities to have great moments and experiences every day, regardless if it's a small task or a big task. Also, at a young age, I realized that I was selfless and caring for the needs of others, especially people with disabilities. People with disabilities are often overlooked and become excluded from society. Seeing people with disabilities struggle with simple daily tasks made me want to be there for them to help in every struggle they may encounter, no matter what the task may be. I want to be that good change they need in their lives and give them hope for the future. 
What are your plans after graduation?
My plans after graduation is to attend the graduate program for Occupational Therapy. Then I would love to have a full-time job at a hospital or rehab center, while still someday earning my Doctorate in Occupation Therapy. 
What are you involved in on and off campus?
As well as being a full-time student here at the university, I work for the Student Union as a facilities and events student assistant. I am also a member of the student organization Volunteers Around the World, which is an organization dedicated to providing free medication and medical care to locals in Peru through fundraising. We also do a lot of community service activities for our city and those in need. Also, I volunteer and observe at an occupational therapy clinic where I help the OTA's in anything they may need. 
What is your biggest accomplishment to date?
My biggest accomplishment that keeps me motivated is being recognized on the Dean's List every semester. 
What advice do you have for future students?
My advice for future students is to get involved on and off campus with activities or organizations. Especially, related to your major so that once you graduate you are full of experience and knowledge. This will also help so that once you are on your own, you feel confident and independent.