Sub Menu Toggle
Samuel Roberts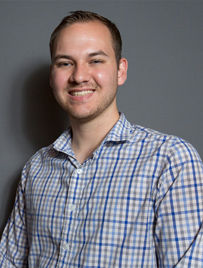 Name: Samuel Roberts
Age: 24
Major: Electrical Engineering
Hometown: Brownsville 
Why UTRGV?
I chose UTRGV because it offers affordable, quality education while being located close to home. My three siblings and one parent have either graduated from UTRGV or are currently attending here. So, at this point, it is essentially a family tradition. 
What made you decide on your current major?
Growing up, I had always been more interested in science and math over other subjects. I also enjoyed learning how the world works and solving complex problems. Once I got a taste of engineering at a summer camp hosted by UTB, I was hooked. 
What are your plans after graduation?
After graduation, I plan on pursuing a career as an electrical engineer in the defense industry. After gaining some experience in the workplace, I would also like to return to college for my master's degree. 
What are you involved in on and off campus?
On campus, I am a full-time student, member of the Institute of Electrical and Electronics Engineers, and captain of the robotics team. Off campus, I am a member of the Texas Air National Guard, where I work as an aircraft mechanic. As such, I have a monthly obligation to train and maintain deployment readiness. I am also an active member of my church and volunteer working with youth. 
What is your biggest accomplishment to date?
I would have to say my greatest accomplishment has been my academic career — culminating in the honor of being the Outstanding Student of the Year for the electrical engineering department. For me, the path to academic success has not been a straight, easy one, and this honor given to me by my professors makes the effort I have put into my education seem even more worthwhile. 
What advice do you have for future students?
Take a genuine interest in what you are learning and do not just do the bare minimum to pass.