Sub Menu Toggle
Samanta Alvarado Nieto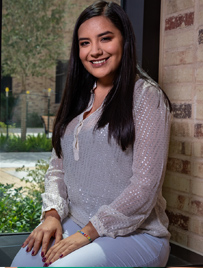 Name: Samanta Alvarado Nieto
Age: 22
Major: Management and Accounting
Hometown: Matamoros, Tamaulipas, Mexico 
Why UTRGV?
Since English is my second language, I wanted to challenge myself and study in the U.S. I chose to study at The University of Texas Rio Grande Valley because it offers lots of opportunities, it is in a great location near Mexico and my family, and more importantly, it offers high-quality education. UTRGV has given me a completely unique experience in which I've learned a lot and developed as a person.
What made you decide on your current major?
Management gives me the opportunity to learn about human resources, managerial accounting, and entrepreneurship, among other important subjects. In the future I would like to develop myself as a human resources manager for an industry. I've always held an interest in learning how the business environment works, and from this, I got the idea of one day having my own business. So, both of my majors work perfectly for me to accomplish my goals.
What do you like most about UTRGV?
I can positively say UTRGV has made me a better person. It has helped me develop a positive attitude toward my studies and discover more about myself. Teachers are very caring and interested in students' well-being. They make sure every class is fun, educational and interactive.

What are some of your favorite study spots on campus?
I prefer quiet places to study and La Sala in the Student Union is a really great spot. Also, the new Music, Science & Learning Center building has everything you need to study; new charging stations, comfortable seats, and a lot of space.

What does being a Vaquero mean to you?
As you start achieving your goals and start living life differently, take some time out to help others - help people set goals and show them how it is done. Engaging in activities that not only enhance our academic curriculum, but also help to build our communities and improve the Valley's quality of life is the essence of a Vaquero. 

What opportunities has UTRGV helped you find throughout your community?
I am an international student, and the university gives me the opportunity to work while I study. I currently work for the Student Union and this work has given me many opportunities. I've developed personally and professionally with the experiences this work has given me. Thanks to my work, I've created good friendships and I've met people who have impacted my life.

What are a few of your favorite books?
The first book I read was "The Little Prince" at 7 years old. It is very important to me because it was a gift from my dad, and with that, he instilled in me the love of reading. Right now I'm reading "Island beneath the Sea" by Isabel Allende and I would like to read "The God of the Small Things" by Arundhati Roy by the end of the year.

What's in your playlist right now?
I'm currently listening to my Austin City Limits playlist. Artic Monkeys, Khalid, Odeza and CHVRCHES are the bands I'm most excited to see this October.