Sub Menu Toggle
Rosalina Viramontes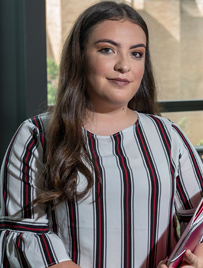 Name:  Rosalina Viramontes Romero
Age:  23
Major:  Social Work
Hometown:  San Juan 
Why UTRGV?
UTRGV has provided me a unique opportunity for growth and networking in pursuing my degree. Attending UTRGV has given me the opportunity to be part of the Abriendo Caminos Scholarship Program, a Living Learning Community (LLC) on campus that provides room and board, and the opportunity to participate in a variety of life skills, workshops and community service.

What made you decide on your current major?
Social work is a very rewarding profession. I chose this major for the opportunity to help others in our region.  The field of social work caught my attention as soon I was introduced to the profession my first year at UTRGV. I am passionate about empowering, advocating, motivating and educating others, which led me to a career in social work. Knowing that the work that we do as social workers is having a positive impact on a person's life is the best reward.

What do you like most about UTRGV?
What I like most about UTRGV is the experience and opportunities they offer, such as internships, study abroad and job opportunities. I also appreciate the friendly and welcoming environment the university offers to all students, but more importantly, meeting great professors in the Social Work Department who mentor and always ensure the success of their students. Giving back to others is very important to me, especially in the career field I've chosen. I have worked for the UTRGV P-16 Outreach Department where I am able to help people in my community with their transition into college.
What are some of your favorite study spots on campus?
Being part of a Living Learning Community (LLC), has allowed me to have access to a lab open to students in our LLC. I spend most of my time at Emilia Hall with my peers studying and preparing for my exams.
What does being a Vaquero mean to you?
Being a Vaquero means having pride representing our university by being part of an inspiring community of diverse individuals working together to achieve excellence in all we do. It is a place where we are inspired continuously by great faculty and staff to chase after our dreams.

What opportunities has UTRGV helped you find throughout your community?
UTRGV has offered me a variety of great opportunities, but an especially great opportunity has been working for the P-16 Outreach Department. It has opened the door to new opportunities such as attending local, state and national conferences with the goal of learning new ways to assist our community. Additionally, I have been a part of creating a college-going culture in my community, and supporting students and families with the college transition process. The department works with the community promoting higher education via different initiatives across the RGV.
What are a few of your favorite books?
"The Power of Moments: Why Certain Experiences Have Extraordinary Impact" by Chip Heath and Dan Heath.

What's in your playlist right now?
Various artists, specifically music to help me concentrate on my studies.