Sub Menu Toggle
Phillip Moreno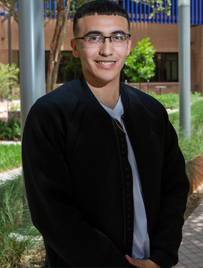 Name: Phillip Moreno
Age: 21
Major: Biology
Hometown: La Blanca, TX 
Why UTRGV?
I chose UTRGV because it's home. You see, in the Rio Grande Valley, nothing is given. Everything is earned. You work for what you have, and I take great pride in where I'm from so when I had the opportunity to get a good education close to my family members who have been the best supporting system I've had my whole life and represent my home at the same time, it just made perfect sense. I'm just a kid from the Valley - I wouldn't want to be anywhere else.
What made you decide on your current major?
Dr. Michael D. Sander had a huge influence on me when deciding my major. He's an orthopedic surgeon in Weslaco and seeing him give back to his city by helping people, all while building his empire, having his own pharmacy and operating center, is something I want to do for my home, the RGV. My purpose in life is to give back and I believe my major will put me in the best position to do just that. 
What do you like most about UTRGV?
Just the opportunity UTRGV gives us - to not only grow as individuals and future professionals, but it gives you a chance to go out and achieve your dreams. You know, everyone always thinks you must move out of the city and go to UT Austin or Texas A&M to do that, but it's possible at UTRGV, you just must believe.

What are some of your favorite study spots on campus?
I usually study in one of the study rooms we have here in the Student Union, but if I'm not there, I'm in the third floor of the library.

What does being a Vaquero mean to you?
It means never giving up. It means you got to give the kids who look up to you a reason to believe. Being a Vaquero means you get up each day, go out there in the world, do your best and don't make excuses. Because when it's all said and done, the legacy of a Vaquero will forever be someone who went against all odds and accomplished what they were put on earth to do.

What opportunities has UTRGV helped you find throughout your community?
I'm currently working for the Student Union. I can talk forever about my experiences and relationships I've built at the Union, but I'm grateful for the opportunity It's given me to meet a lot of people and grow as both a student and a future professional. It's also helped me familiarize myself with resources around campus such as handshake, student involvement, career center, etc.

What are a few of your favorite books?
"Summer Ball" by Mike Lupica because I love basketball.
"Hatchet" by Gary Paulsen because I rarely read books, but one summer I took the time to read this book, and wow, never regretted it since.

What's in your playlist right now?
I listen to everything. I'm serious, ask everyone that knows me they'll tell you. But if I had to go with one, I'd have to go with Drake - that's my guy.