Sub Menu Toggle
Nydia Cristina Gauna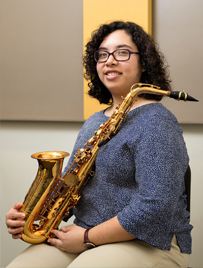 Name: N. Cristina Gauna
Age: 21
Major: Music Education
Hometown: Pharr 
Why UTRGV?
My original plan was to only take general core classes here and then move. As I went through my first semester I started to like UTRGV more and more. I saw the university growing and I wanted to be part of that. It's also home. I have a lot of family and friends here, and have grown closer to them since I decided to stay. 
What made you decide on your current major?
Music is something I have been doing since 6th grade. I couldn't imagine living my life without making music. Deciding to be an educator has shown me just how important music is. Not just to me, but for young minds today. I want to be an educator that motivates their students to do well and teaches them to love music. 
What are your plans after graduation?
I plan to teach for a couple of years and then come back for my Masters degree in multiple woodwinds. 
What are you involved in on and off campus?
On campus I am part of the Kappa Kappa Psi Band fraternity. It is a service fraternity in which we help out the university ensembles as well as high schools with whatever we can. I am, of course, part of the resonance quartet. It is the top saxophone quartet here at UTRGV. We perform at many places and recently performed at TMEA in San Antonio this past February. It was a lot of fun and I love working and performing with them. Earlier in the year we even did a recruitment performance at Edcouch Elsa High School. Edcouch Elsa is actually where I have been working since August as the saxophone consultant. 
What is your biggest accomplishment to date?
Well, I have been making the deans list for the past three or four semesters. Region 28 had UIL Solo and Ensemble a couple of weeks ago and all of my eight students that went got 1's and two of them are advancing to state. So I am pretty proud of that. But a bigger accomplishment for myself was being one of the winners for the Concerto Competition that happened this past November. 
What advice do you have for future students?
Life is hard. Its not gonna be easy, just keep moving forward and hold on to all the positive. If you think you don't have any motivation then find it, because it wont find you. Don't isolate yourself, be with friends and try to be the best you you can be.