Sub Menu Toggle
Marco Guzman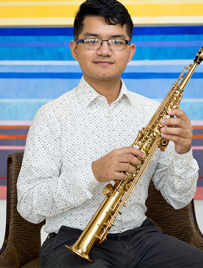 Name: Marco Guzman
Age: 21
Major: Music Education
Hometown: Edinburg 
Why UTRGV?
I chose to come to UTRGV because I was familiar with the applied saxophone professor, Dr. Cynthia Cripps. I knew her because she would host and conduct the summer saxophone ensembles which I would take part in. My favorite part of UTRGV is the music faculty. They're all very knowledgeable in their respective music fields and I always feel like I learn something that will benefit me in my career in each of the classes they teach. 
What made you decide on your current major?
Throughout middle and high school, I always participated in band and my band directors were always the ones I looked up to as I was getting older. I had opportunities throughout high school marching band to test my pedagogical skills and I found that I thoroughly enjoyed my time when I could teach. From the moment I made my first honk on my saxophone, I loved music. Going into music education just seemed like the next logical step. 
What are your plans after graduation?
I plan on becoming a band director at a middle or high school after graduation and pursuing a master's in Instrumental Conducting or Saxophone Performance after a few years of teaching. 
What are you involved in on and off campus?
On campus I am involved in two organizations. I am part of Kappa Kappa Psi, which is a national honorary band fraternity where I serve as historian and I am also a part of Collegiate Saxophone Association, where I serve as president. Off campus, I am a fine arts tutor for the Robert Vela High School band, where I give private lessons in the individual and chamber ensemble basis.
What is your biggest accomplishment to date?
My biggest accomplishment to date is being able to perform at the North American Saxophone Alliance conference in Stillwater, OK. I performed with my quartet and also with my saxophone professor in a duet. In the audience, for both performances, were very influential figures in the saxophone world and they spoke positively about what they heard. 
What advice do you have for future students?
I have a few pieces of advice for future students:
Learn how to manage your time! There is always enough time to do all your work, study, practice and relax. I feel like too many students spend too much time relaxing, so that they feel like they don't have enough time for anything else.
Go to class! It's not worth skipping. That one day you skipped could be the difference between you passing or failing that class.
One bad performance is not indicative of who you are a musician or a student. Everyone has bad performances. Being imperfect is part of what makes us human. Take what happened and use it as a learning experience so you can figure out how to prevent it the future. You will be okay.