Sub Menu Toggle
Liliana De Luna Chavez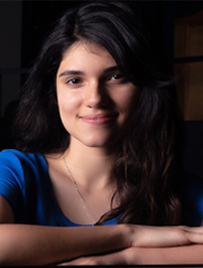 Name: Liliana De Luna
Age: 22
Major: Music Education
Hometown: Matamoros, Tamaulipas 
Why UTRGV?
I chose to attend UTRGV because of its well-rounded music education program, their highly qualified faculty and the great range of opportunities that are presented to international students. However, what confirmed my decision to study at this university was having the opportunity to meet my applied piano professor, Dr. Kenneth Saxon. His expertise, knowledge and guidance has helped me grow into the musician, teacher and person that I am today. 
What made you decide on your current major?
When I was about to graduate high school, I knew that I wanted to study something different and unique that I would enjoy for the rest of my life. Obtaining a degree in music is an adventure like no other. It's unexpected, unique and it opens your eyes to the endless possibilities. As my friend Gina Salcedo described it, "Music is not about the dots and lines scribbled across a paper. It's not about who is the most talented, or who is chosen as the limelight's host. It's about how the composer portrays his story through a language as ancient as thought; one which needs no translation or cultural exposure to understand. The significance of music is then interpreted through the eyes that read it, the ears that listen to it, and the hearts it reaches." By studying music education, I would have the privilege to study music for a living and could share my love for music by becoming a teacher.
What do you like most about UTRGV?
My favorite thing about UTRGV is the people. The professors and friends that I've met during my studies at UTRGV will forever have a special place in my heart. The faculty's expertise and dedication to their respective fields has been a great inspiration and the experiences, laughter, and tears that I've shared with my friends at UTRGV have become unforgettable memories that I will forever hold dear.
What are some of your favorite study spots on campus?
My favorite place in Brownsville is hidden in plain sight. The stairs along the side of the TSC Arts Center leads to a beautiful balcony with the most amazing, breathtaking sight.
What opportunities has UTRGV helped you find throughout your community?
UTRGV has opened many doors to help me develop more as a teacher and musician. Being the president of the Clavier Club and the concert director for the German Club, two student organizations that have been very active in presenting outreach recitals throughout the entire community, has been an amazing journey that has helped me grow into a better musician, performer and leader. 
What's in your playlist right now? 
My playlist is composed of a little bit of everything, but a large section of it is surely devoted to classical music.