Sub Menu Toggle
Kristen Kline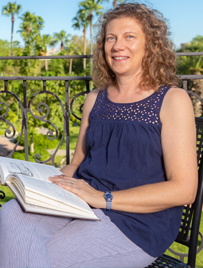 Name: Kristen D. Kline
Major: MA in History
Hometown: San Marcos, TX 
Why UTRGV?
It offers a living laboratory for studying borderlands issues.

What made you decide on your current major?
I want to be a historian when I grow up; getting an MA in History is the first step toward that goal. 
What do you like most about UTRGV?
It is challenging yet rewarding to take part in this grand experiment in higher education. UTRGV is the first university of its kind.

What are some of your favorite study spots on campus?
When it's not blazing hot I like to sit under a tree overlooking Lozano Banco Resaca in Brownsville if I have reading to do. For writing, I prefer sitting somewhere I can spread out my books and papers with a view of trees or water. Depending on the weather, the best spots can be found on the second floor of the library or out on one of BMAIN's balconies.

What does being a Vaquero mean to you?
Metaphorically speaking, being a Vaquera means getting back on the horse after you've been thrown. Stand up, dust yourself off, and climb back in the saddle!  

What opportunities has UTRGV helped you find throughout your community?
My professors have been instrumental in helping me get back into the swing of things after a long hiatus from academia.

What are a few of your favorite books?
My top three authors are Louise Penny, Jacqueline Winspear and Barbara Kingsolver, so anything they write falls into my favorite book category. But to answer the question, "Le Petit Prince" by Antoine de St. Exupéry has a permanent spot on my bookshelf. This was the first book I learned to read in French. Reading it keeps me grounded and reminds me of what is truly important in life. I am currently re-reading "The Historian: A Novel" by Elizabeth Kostova. I can't resist well-written historical fiction, especially when it involves family secrets and a heroine traipsing through ancient libraries to solve a mystery. My audiobook pick is the series by George R. R. Martin, "A Song of Ice and Fire." Not only is it a saga that features my favorite mythic beasts—dragons—but the reader, Roy Dotrice, is an accomplished voice actor who portrays dozens of characters flawlessly.

What's in your playlist right now?
The playlist I'm currently building is called "Desert" and includes (no surprise) "Desert Rose" by Sting, "A Horse with No Name" by America, "Por Donde Saldrá El Sol?" by Manu Chao, "Circle Around the Sun" by Poi Dog Pondering, "Terre de mon poème" by Yelli Yelli, "J'ai demandé à la lune" by Indochine, "Gracias a la Vida" by Joan Baez, and "Bad" by U2.