Sub Menu Toggle
Katia Marlen Perez Flores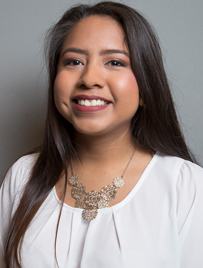 Name: Katia Marlen Perez-Flores
Age: 23
Major: Marketing and Business Management
Hometown: Tampico, Tamaulipas, Mexico 
Why UTRGV?
UTRGV was the university I wanted to attend because I was looking for a big challenge. Studying in the United States was my opportunity to leave my comfort zone and demonstrate to myself what I am capable of. I am sure I made the right decision because, since I came here, I have shown personal and academic growth. UTRGV also offered me the opportunity to meet new people from all over the world as well as learning about their cultures. 
What made you decide on your current major?
I am double majoring in marketing and business management. I chose marketing because I feel passionate about the selling and relationship techniques that fortune 500 companies implement in order to acquire, retain and grow their customer base. I chose management because I am interested in how companies work on the inside. I wanted to know the company divisions and how each of them operate separately in order to combine forces and work as a single body.
What are your plans after graduation?
I am interested in pursuing my Marketing PhD at UTRGV. Part of my plan is to go work on my professional experience first and then I will come back to implement my knowledge in the workforce locally.  
What are you involved in on and off campus?
In addition to being a full-time student, I am an officer in the four business organizations we have on campus: American Marketing Association (AMA), Institute of Mnagement Accountants (IMA), Society for Human Resource Managers (SHRM) and Collegiate Entrepreneurs' Organization (CEO). Leadership is one of my greatest skills and I gained experience by joining these types of organizations on campus. 
What is your biggest accomplishment to date?
My biggest accomplishment so far is being nominated by the chair of the UTRGV Robert C. Vackar College of Business and Entrepreneurship, Dr. Russell Adams, to join Alpha Mu Alpha, the national marketing honorary society that recognizes outstanding scholastic achievements in the marketing discipline. So far, I have the privilege of being the only UTRGV student to join the society. 
What advice do you have for future students?
Everything you are doing right now keeps adding value to your resume. Always strive for the best, because at the end of the day, it always seems impossible until it's done. Join student organizations, practice your networking and speak out because that's how you stand out.