Sub Menu Toggle
Juan Lozano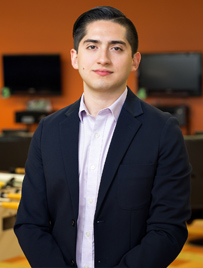 Name: Juan Lozano
Age: 22
Major: Economics
Hometown: Reynosa, Tamaulipas 
Why UTRGV?
I chose UTRGV because it's where I can get a high-quality education. What I like most about the university is its excellent support for international students. What it offers me that I might not find in other universities are the affordable classes and that I am close to home. 
What made you decide on your current major?
Since I was a kid, I really liked being involved in any type of business. When I was in high school I had to take an economics class. The professor had a very unique way of teaching and entertaining the class. Due to his ability, it made the class interesting for me.  As the semester went by I realized that economics was what I wanted to study, but more than anything it was my instinct and passion that told me that economics was the perfect major for me. 
What are your plans after graduation?
My plans after graduation are to look for internship opportunities or hopefully work at a company while I pursue my master's degree and, in the future, open my own business. After having a stable job, I want to travel around the world.
What are you involved in on and off campus?
I currently work at the Game Room located in the Edinburg Student Union. Working there has given me the opportunity to meet new people. Also I have recently participated in the intramural sports offered on campus. 
What is your biggest accomplishment to date?
My biggest accomplishment has been being able to study in a school outside of my country and have to learn another language. 
What advice do you have for future students?
Some advice that I could give to future students is to never give up on their dreams and do not let anyone tell you you can't. Manage your time wisely, work hard every day, be responsible and always attend class is the best way to succeed.