Sub Menu Toggle
Jose Guerra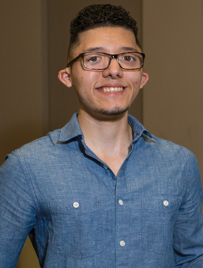 Name: Jose Guerra III
Age: 22
Major: Music Education
Hometown: Mission
Why UTRGV?
I chose UTRGV because it offered my field of study and it was a comfortable transition into college life since I'm from the area. I like being close to home which saves money and keeps me involved with family. The music program here offers more one-on-one and continuous interaction with your applied professor as opposed to bigger schools out there where professors focus is on graduate students.  
What made you decide on your current major?
I participated in the Summer Saxophone Ensemble where I met my professor Dr. Cripps when I was in high school. She coached me since then and recruited me. I also enjoyed playing and teaching music alongside my middle school and high school mentors. I knew I couldn't continue my life without music, so I made the decision to major in music when I was a high school junior.  
What are your plans after graduation?
My plan after graduation this Spring is to find a job as a middle school band director. I will work for a year or two while preparing to apply and audition for graduate school into a master's equivalency program in music therapy to eventually become a licensed music therapist. I might pair my music therapy program with a master's degree in saxophone performance as well.  
What are you involved in on and off campus?
On campus, I have been involved in the Wind Ensemble and Symphonic Band, Saxophone Ensemble, Resonance Saxophone Quartet and have been an officer for three years in the Mu Chi Chapter of Kappa Kappa Psi National Honorary Band Fraternity. Off campus, I'm a piano, guitar and wind instrument instructor at Crescendo Music Institute in Mission.  
What is your biggest accomplishment to date?
My biggest accomplishment would have to be traveling and performing at the World Saxophone Congress in Zagreb, Croatia this summer. Other big accomplishments include performing at various music and saxophone conventions such as TMEA, NASA, GPSW and MTNA across Texas and Oklahoma.  
What advice do you have for future students?
Learn to set priorities and manage your time wisely. Strive to achieve academic success but don't forget to have fun with your college experience by being involved in different organizations that can help you inspire, motivate and educate others.