Sub Menu Toggle
Jackeline Gonzalez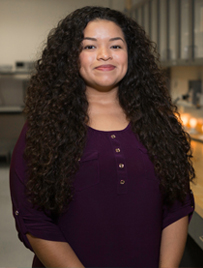 Name: Jackeline Ivette Gonzalez
Age: 21
Major: Electrical Engineering
Hometown: Donna, TX 
Why UTRGV?
I chose UTRGV because of the affordability, because of how close to my family it was and because I have grown attached to the Valley. I have not lived in the Valley all my life, but I have lived here long enough to grow familiar and fond of various places, and accustomed to the warmth from most people here. 
What made you decide on your current major?
I was never quite sure what I wanted to do and went on to change my major about four times before choosing. I had always loved computers and was very intrigued by technology. I'd find myself opening up my own laptops and old phones, sometimes to fix them and sometimes just to see what was inside. I'm still not quite sure why it took me so long to decide, but I am happy and relieved I finally did.
What are your plans after graduation?
There are many things I'd like to do but at the top of my list would be to become a part of a company geared towards the design and production of robots, and to travel to different parts of the world - specifically to South Korea and France. 
What are you involved in on and off campus?
I currently hold two jobs, one at a tutoring center and the other at the Marketing and Communications department here at UTRGV. I am also involved with organizations on campus such as the Society of Hispanic Professional Engineers known as SHPE and the Institute of Electrical and Electronics Engineers, or IEEE, which are focused on empowering, inspiring, introducing and extending STEM fields into the community through outreach. 
What is your biggest accomplishment to date?
To date, my biggest accomplishment is how far I have come regardless of all the hardships I've had to face. After years of uncertainty, I have finally found my passion. I work to help myself and my family, I am the first from my family to go to a university and I make the most important person in my life proud: my mother. 
What advice do you have for future students?
Go to class, take good notes, ask questions, set up time to review your notes and study outside of class, go to your professor's office hours and get involved with an organization. Don't be afraid to make friends and talk to people both in your classes and around campus. Oh, and did I mention to ask questions? You won't know if you don't ask! Don't be afraid to speak up!